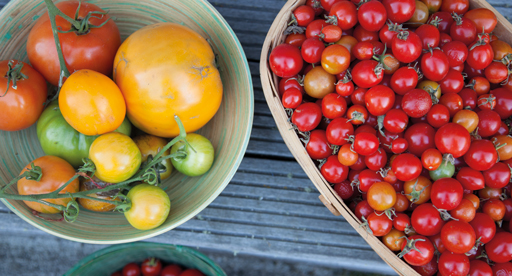 As we head into early summer it's wonderful to see the planting and seed raising I did back in spring coming to fruition. The garden looks so lush at this time of year, and it's hard to keep up with the salad greens, broad beans, snow peas and spring herbs (not that I'm complaining – these are some of my favourite vegetables!).
I love to just wander around the garden and see everything ramping up – the tiny peppers, tomatoes and eggplants are set, the first zucchinis are fattening up and the beans are flowering. In the evening I can often be found up in the garden watering -– at the end of a hot day things can feel a bit frazzled and there's something quite therapeutic about standing there with the hose, giving the garden a good soak, knowing my plants will spring back into life and grow without any stress.
Every four weeks I give the garden a good drink of Tui Organic Seaweed Plant Tonic to boost root growth and flower and fruit production. As the days continue to lengthen, giving us late, light evenings, we often set a table up in the garden and have dinner out there, where we can just reach down and pick some fresh snacks!
Warm weather and lengthening days mean some plants will start going to seed around this time of year, especially rocket, coriander, spinach, Asian greens and silverbeet. I always leave a couple of plants to go to seed – the bees love the flowers and I can collect the seeds and use them next season!
If you're short on space a salad box garden or a wall garden are great ways to grow some of your own veges. And box gardens are a terrific idea for a special Christmas present for your foodie friends – get them started in early December and by 25 December they will be flourishing and nearly ready to pick.
If you're heading away somewhere remote for the summer holidays, plant up a portable salad and herb box to take along. Include mesclun, rocket, lettuces, spring onions and soft herbs – that way you know you'll always have fresh greens at hand to transform easy summer meals into something special. I never pick whole plants from my boxes – I just pluck a few leaves from each plant so they can carry on growing, and that way I also get a longer supply. For a full guide see my salad box Tui Garden Project.
Wall gardens are another great option – a clever way to upcycle old wooden pallets and lots of fun to do with the kids in the school holidays. Set up a couple and grow a different cuisine in each! For an Asian-inspired wall garden use bok choy, chives and coriander. For an Italian-inspired garden try rocket, flat-leaf parsley, basil and even some bush cherry tomatoes! The most important thing about these wall gardens is to keep them well watered – I give them a good soak every two days as they can dry out so quickly. Use a quality container mix such as Tui Outdoor Container Mix and stir through Tui Super Sheep Pellets to give an extra boost. It's really important to have lots of nutrients available to your plants when they are packed in like this, otherwise they won't flourish. For a full guide see my wall garden Tui Garden Project.
Annabel Langbein's Summer Mango Salad

Prep time 15 mins
Serves 8
Ingredients
250g snow peas
6-8 handfuls lettuce leaves
2 just-ripe mangos, flesh cut into strips
1 red pepper, seeded and cut into thin strips
½ small red onion, very thinly sliced
2 just-ripe avocados, flesh cut into strips
Ginger Lime Dressing
2 tbsp neutral oil
2 tbsp lime juice
2 tsp fish sauce
2 tsp grated fresh ginger
ground black pepper, to taste
Method
To make Ginger Lime Dressing shake together all ingredients in a small jar.
Place snow peas in a bowl and cover with boiling water.
Allow to stand for 1 minute, then drain, cool under cold water and drain again.
Arrange lettuce in a salad bowl and top with snow peas and all other ingredients (don't add the avocado until just before serving).
When ready to serve, add avocado and dressing and toss gently.