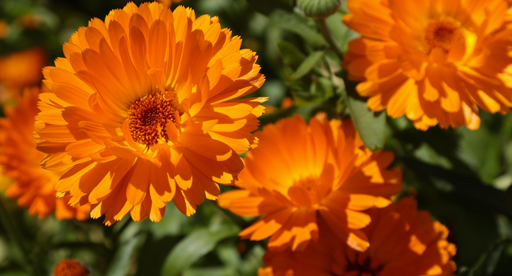 After harvesting your summer crops it's the perfect time to plant more for continuous harvests. 
Companion planting involves grouping plants together so they can help each other to grow better. We've put together top autumn companions!
TOP AUTUMN COMPANION PLANTS
Veges
Beetroot enjoys the company of broccoli, cabbage, lettuce and onion.
Plant broccoli with beetroot, celery, dill, onion and rosemary.
Carrots and leeks are perfect companions. Both have strong scents that drive away each other's pests.
Carrots also enjoy lettuce, onion, peas, radish and runner beans.
Leeks love celery, onion, strawberries.
If you're planting cauliflower, beans, celery, oregano, peas and spinach can be planted alongside.
A year-round favourite, lettuce will grow happily with carrots, radish and strawberries.
Flowers
Calendula (also known as English marigold) is a wonderful companion plant that attracts beneficial insects including hoverflies and ladybirds which prey on aphids. It also attracts bees and butterflies into the garden. Silverbeet, radish, carrot, thyme and parsley in particular like the company of calendula. 
Herbs
Sage is a great herb to plant around celery crops, as it helps to keep aphids away.
Hyssop deters white cabbage butterfly from brassicas such as broccoli, cabbages and Brussels sprouts.
Plant dill and rosemary next to broccoli.
When should I plant
in
Jan
Feb
Mar
Apr
May
Jun
Jul
Aug
Sep
Oct
Nov
Dec
Harvest in

50-65

days
Autumn garden checklist
In addition to companion planting, give your garden a boost every 2-4 weeks with Tui Organic Seaweed Plant Tonic. Regular applications promotes healthy plant and root growth to make plants more resilient to common problems including frost and pests and diseases.
Before planting replace nutrients used over the heavy summer growing season by adding Tui Premium Compost and Tui Sheep Pellets to your soil before planting.
Harvest seeds from last season's crops for use next season – free plants!
Lift main crop potatoes if you haven't already.
Apply Tui Quash slug and snail control around seedlings.
Harvest pumpkins and dry well before storing.
Prune back flowering plants that have finished for the season. Mulch your plants with Tui Pea Straw Mulch to suppress weeds and protect plants from the cooler temperatures ahead.