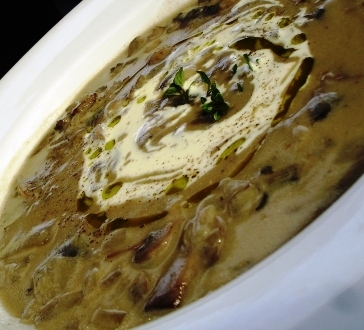 A yummy mushroom soup sure to impress!
300g fresh thinly sliced button mushrooms
200g fresh thinly sliced portobello mushrooms
1/4 cup of butter
1/3 cup of plain flour
4 cups of chicken stock
3 cups of water
1/2 teaspoon of fresh or dried thyme leaves
1 large bay leaf
1/4 cup spring onion finely chopped
2 large egg yolks
1/2 cup of cream
1/2 teaspoon of white pepper
fresh parsley leaves to garnish
Rinse the mushrooms in cold water and pat dry with paper towels.
Slice the mushrooms thinly.
Melt the butter on medium heat in a large pan.
Add mushrooms and saute for 5-6 mins until most of the liquid from the mushrooms has mostly evaporated.
Sprinkle flour over the mushrooms and cook for 1 minute stirring often.
Gradually stir in the chicken stock and water and bring to boil. Boil for 5 mins, and stir often so the soup doesn't stick to the bottom of the pan.
Add Thyme, Bay Leaf and Spring Onions.
Reduce heat, cover and simmer for 20mins.
Remove Bay Leaf.
Whisk together the egg yolks and cream in a mixing bowl.
Slowly add 1 cup of the soup to the mixing bowl whisking until it's all mixed in. This prevents the egg yolks from cooking.
Return the mixture to the soup pan whisking while adding.
Heat over a low heat for 5 mins.
Add white pepper to taste.
Serve soup garnished with parsley.
Recipe courtesy of Cafe Botannix at Palmers New Plymouth