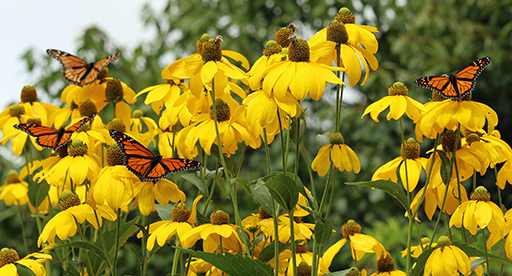 Monarch butterflies are a symbol of summer, gracing our gardens with their big, bright orange and black wings, floating above our colourful flowers. Discover how to encourage more beautiful pollinators like monarchs into your garden.
The Monarch Butterfly Lifecycle 
Masses of colour help bring butterflies to your garden. Daisy-shapes also give the butterfly a 'landing pad', somewhere on which to rest while they take up nectar with their proboscis. 
Stage 1. Monarch butterflies lay their eggs on swan plants (a type of milkweed) and can smell them from up to 1 kilometer away, so planting swan plants will help attract them to your garden. Swan plants which are available in most garden centres.
Stage 2. Once the female lays her eggs, after five about days they hatch. The caterpillars grow to about 2-3cm over a period of two weeks and are eating machines! Children just love them in their 'striped pyjamas' of yellow, black and white.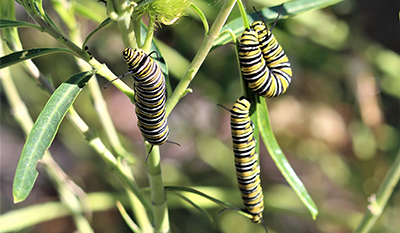 Stage 3. The chrysalis forming is the third stage and after about ten days out unfolds the butterfly. After drying its wings it will flutter away to meet a mate and continue the process.
In some parts of New Zealand you will see monarchs going about their business until well into April or May. When it's too cold the monarchs find their local overwintering spot. These are usually all trees where their predecessors have left pheromones to show the way. Here they will overwinter in large clusters, not breeding, only looking for nectar when their reserves are low, until in spring when they come back to start the next generation.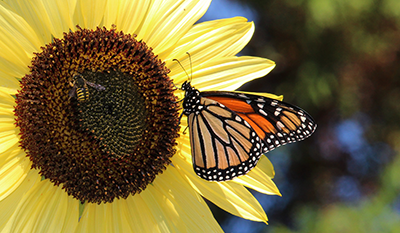 Once you're hooked on monarchs you'll probably be interested in some of the other amazing butterflies for which New Zealand is famous. See some of them photographed in the beautiful calendar by the Moths and Butterflies of New Zealand Trust. Tui is proud to sponsor these calendars – grab one here for 2021! Check out more information about NZ's butterflies on their website here.
Article supplied by Moths and Butterflies of New Zealand Trust.