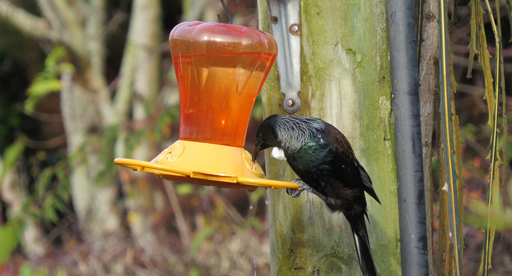 The distinctive colour and song of New Zealand's birdlife are beautiful additions to your garden. To enjoy the sight of these captivating creatures flitting between branches, simply providing regular food sources will bring our feathered friends flocking in. Food for birds is at its most scarce over the cooler months, so is the ideal time to establish regular supply in your backyard.
Wild bird's diet varies between species - some are mainly nectar feeders such as tui and bellbirds whereas others like fantails and starlings prefer insects and bugs (which can be a great helping hand to gardeners!). Other species like finches and sparrows are mainly seed eaters. However in winter when natural food sources are low, many wild birds will eat seed.
If you are considering planting a bird-friendly garden, kowhai - a winter-flowering tree is a firm favourite with tui. Other popular native options include: puriri, New Zealand fuschia, harakeke flax, corokia, wineberry and pohutukawa. Protea, viburnum, red flowering gum, and pyracantha are exotic plants that provide birds with food over the cooler months.
In addition to planting, specialist feeders like the Tui Nectar Feeder - for nectar feeding birds like tui and bellbirds - provide an instant food source. It is nice and bright like a nectar flower to attract the birds. Simply mix up a sugar solution by dissolving 200g of white sugar in 1 litre of warm water. Once cool, pour it into the feeder and hang on a sturdy tree branch for the birds to discover.
Tui's range of Feeders and Seed has been specially designed to tempt a variety of birds into your garden. All feeders are of a high quality construction, are weather resistant, easy to clean, and have a simple to fill design. Tui Wild Bird Seed Mix is a natural product, free from artificial colours and flavours and is the perfect companion to the Tui Wild Bird Feeders.
Tui Tips:
To attract a variety of birds, combine bird-friendly planting with both a Nectar Feeder and Seed Feeder.
Be patient – it can take time for the birds to find new food sources.
Keep feeders topped up with seed so the birds can rely on it as a source of food throughout the seasons.
Regularly clean, dry and replace seed/nectar in your feeder to keep our wild bird population healthy.
Be aware rats, stoats, possums and similar predators can harm birdlife in your garden.