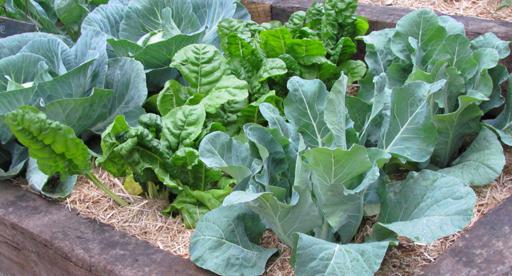 Raised beds are a great option if you are low on space or have poor soil in your backyard and enable you to tend to your garden without standing on soil, avoiding compacting soil so it stays aerated. Here is a guide to building a raised garden - a great project for those of you who don't yet have a vege garden at home.
1. Choose a spot that is sunny, sheltered from the wind and easy to access for harvesting and watering.
2. To build your raised bed you can get a kitset from your local garden centre or hardware store, or start from scratch. Either way, non-treated timber (e.g. pine railway sleepers, or macrocarpa) is the recommended option. Suggested dimensions are: no more than 1 metre wide (so you can easily reach to the back of the garden), unless it is accessible from both sides, in which case it can be up to 1.5-2 metres. Make it at least half a metre deep (so that root crops like carrots and potatoes have room to grow under the soil), and then as long as you'd like.
3. Dig over the ground under the bed to loosen up the soil ready for the raised bed to be built. Make sure the ground is level.
4. Bolt the framing of the raised garden bed together.
5. Place the first layer of the raised garden bed frame in the ground. Check it is level, and then add the second layer.
6. Nail the first and second layer of the framing together.
7. Once you have the structure built, it is time to fill it up. The better the soil, the better your plants will grow. Fill the bed with Tui Vegetable Mix a blend of blood and bone, dolomite and sheep pellets to give vegetable crops the best start. Dig in some Tui Sheep Pellets to give the garden an extra boost.
8. Before you plant it's a great idea to sit down and think about what you like to eat from your garden, so you don't get loads of the same vege ready at once, or grow things your family won't enjoy eating. Sketch out a planting plan for this garden bed, so that you know what you are going to plant. The Tui Planting Calendar is a helpful reference of what to plant, and when.
Having a planting plan drawn out is really handy for forward planning too. You can make a note of of the dates you plant crops, which it allows you to estimate when crops will be finished and plan what you will replace them with.
Now you are all ready to plant!
For our Planting a Raised Vege Garden Guide click here