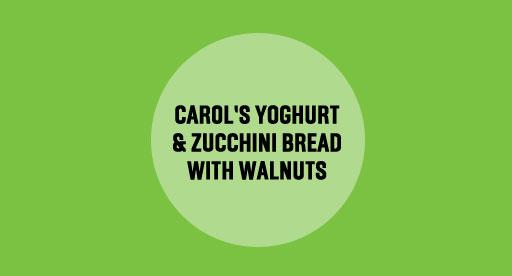 This recipe for yoghurt and zucchini bread with walnuts was kindly provided by Carol from Wairarapa, in the Summer Harvest Recipe Competition.
Ingredients:
1 C walnut halves (approx 110gms)
2 C flour
1/2 teaspoon baking powder
1/2 teaspoon baking soda
1/2 teaspoon salt
3/4 C plus 2 tablespoons sugar
2 large eggs
1/2 cup vegetable oil
1/2 cup fat-free plain Greek yoghurt
1 cup coarsely grated zucchini (from about 1 medium zucchini)
Preheat the oven to 160C.
Butter and flour a 9-by-4 1/2-inch metal loaf pan.
Spread the walnut halves in a pie plate and toast them for about 8 minutes, until they are fragrant.
Transfer the toasted walnuts to a cutting board and coarsely chop them, then freeze for 5 minutes to cool.
In a large bowl, whisk the flour with the baking powder, baking soda and salt.
In a medium bowl, mix the sugar with the eggs, vegetable oil and fat-free yogurt.
Add the wet ingredients to the dry ingredients along with the grated zucchini and toasted walnuts and stir until the batter is evenly moistened.
Scrape the batter into the prepared pan and bake for about 1 hour and 10 minutes, until the loaf is risen and a toothpick inserted in the centre comes out clean. 
Let the loaf cool on a rack for 30 minutes before unmolding and serving.