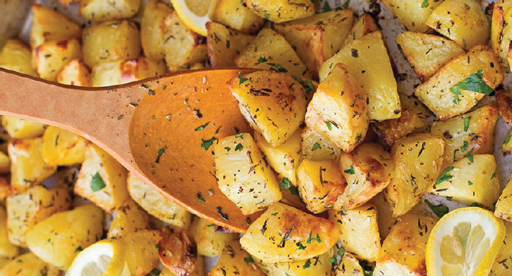 Simple yet delicious, this recipe pairs two popular garden harvests for a tasty dish the whole family will love. Many of you have summer spuds ready to dig or already dug from the garden. With a dash of lemon, butter and fragrant oregano (freshly snipped from the garden!) you can spruce up your roast spuds.
Ingredients:
8 good sized potatoes, cut into quarters (floury potatoes like Agria work best)
2T melted butter
2T olive oil
Juice of 1 lemon
2 crushed garlic cloves
1T dried oregano
Salt and pepper to taste
Serves: 4-6
Prep time: 10 minutes
Cook time: 50 minutes
Method:
Heat oven to 180°C.
Scrub or peel potatoes and cut into quarters (or smaller if you like).
Boil gently in salted water for around 10-15 minutes.
They shouldn't be cooked through, just soft on the outside. Drain well.
Put the lid on and give the pan a good strong shake to fluff up the outside of the potatoes.
Mix together butter, oil, lemon juice, garlic and oregano in a small bowl.
Add the mixture to the potatoes and toss briefly and gently, just to coat the potatoes.
Tip into a large roasting tray and separate so they are not crowded in the pan.
Season generously with salt and pepper.
Bake in the centre of the oven for about 30 minutes - or until golden brown on the bottom, no need to turn them.
For more citrus recipe inspiration visit
Twisted Citrus