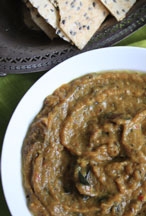 This recipe for eggplant relish is provided courtesy of Helen Jackson at Foodlovers and is favourite for the autumn garden! It is full of flavour and zing, just the thing in a sandwich with a slice of cheese and a generous slab of cold roast lamb.
Ingredients:
2 kg eggplants
1 1/2 cups vegetable oil
750g onions, peeled & chopped
2 bulbs garlic
100g knob of fresh ginger, peeled
6 whole red chillies
1 tablespoon chilli powder
1 tablespoon ground turmeric
2 tablespoons ground fenugreek
2 tablespoons ground cumin
1 tablespoon garam masala
1 tablespoon plain salt
3 tablespoons black mustard seeds
3 tablespoons yellow mustard seeds
1 cup brown sugar
50g tamarind paste
2 cups cider vinegar
Trim the tops from the eggplants and cut into 1cm pieces.
Separate the garlic cloves, peel and roughly chop.
Slice the fresh ginger into thin strips.
Remove the seeds and membranes from the chillies and finely dice.
In a large deep sided saucepan heat the oil.
Add the onions and eggplant pieces.
Fry for 2-3 minutes, then add the prepared garlic, ginger and chillies.
Continue frying for another 5 minutes before adding the chilli powder, garam masala, salt, turmeric, fenugreek and cumin.
Fry until spices become fragrant.
Add the mustard seeds, brown sugar, tamarind paste and vinegar.
Bring to the boil and turn down the heat to low.
Allow to simmer for 15 minutes.
Use a hand held blender to puree the mixture, or pulse it in a blender or food processor.
Return the mixture to the saucepan and heat on low for another 5 minutes but be careful as mixture can bubble and spurt.
Preheat the oven to 150°C. Wash and sterilise jars in oven for 15 minutes.
Spoon the hot chutney into the hot jars.
Seal well with fitting lids.
Leave to rest for 2 weeks to allow flavours to develop.
Recipe courtesy of www.foodlovers.co.nz