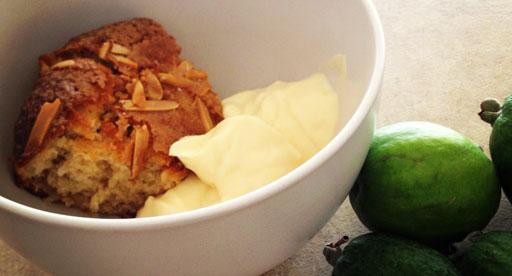 This is a delicious dessert cake - best served warm with yoghurt or ice cream. Recipe courtesy of Cass from the Tui Team.
Ingredients:
175g softened butter
1 C sugar
3 eggs
1 1/2 C flour
2 tsp baking powder
1/2 C milk
1 1/4 C coconut
5-6 largish feijoas, peeled and diced (approx. 1 - 1 1/2 c)
1/4 C sliced almonds
2 tbsp sugar
Lightly grease a 20cm cake tin and pre-heat the oven to 180 degrees celcius.
Cream the butter and sugar together.
Add the eggs one at a time and beat in.
Sift the flour with the baking powder and fold in, alternatiing with the milk.
Fold the coconut and feijoas into the batter.
Pour into the prepared tin, sprinkle the almonds and sugar evenly over the top of the cake.
Bake for 45-50 minutes, or until a skewer inserted into the middle of the cake comes out clean.