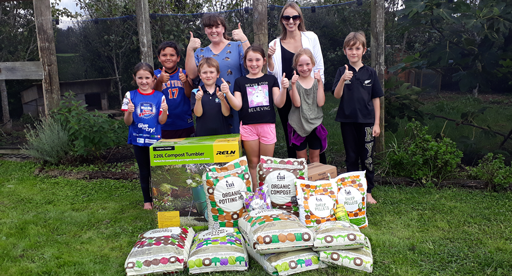 We're excited to continue to support the Garden to Table programme in schools this year, with four new schools recently joining. Last week we visited Oropi School, one of the first Bay of Plenty schools to join, to deliver their starter pack and check out their impressive garden!
As Oropi School is based in Tauranga near the Tui head office, it's the first time we've been able to hand deliver a starter pack to one of the Garden to Table schools which is fantastic.
It was wonderful to see how enthusiastic the children are about their garden. They had just finished making beetroot chips from their Garden to Table lesson, using fresh beetroot they had proudly grown themselves!
Their raised garden beds were brimming with delicious produce grown over the summer months including tomatoes, chillies, pumpkins, kale, beans, beetroot, and we can't forget those massive spring onions! The children have planted marigolds in between their veges as companion plants, and to attract the bees! Check out the photos of their crops above.
In addition to raised garden beds for veges, the school has chickens, sunflowers, a variety of fruit trees and newly built compost bins so they can start composting.
The school has great support from teachers and volunteers, and their plans this year include adding sun shades to part of their garden so the children can sit in the shade and enjoy their harvests, and an outdoor kitchen made from a shipping container!
We look forward to helping the children learn and continue to grow in the garden.
Along with Oropi School, the following schools have also joined Garden to Table this year: Oratia School, Kaikohe West Primary School and Gate Pa School - welcome on board!
Tui & Garden to Table
Garden to Table is a trust, which runs a gardening and cooking programme in schools across New Zealand. As participants in the Garden to Table programme, seven to 10 year-old children spend time in a productive vege garden and home-style kitchen each week. There they learn skills that will last them a lifetime, and discover just how much fun it is to grow and cook their own seasonal vegetables and fruits.
Tui is providing starter packs to each of the new schools, and seasonal packs during the year.