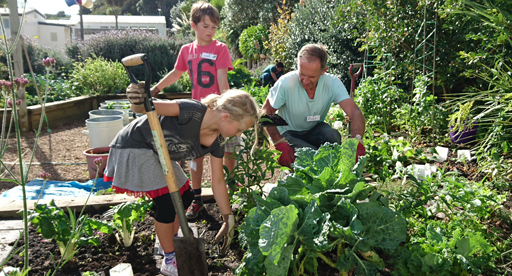 The children at Te Huruhi School on Waiheke Island have been enjoying time in their garden this autumn, discovering the joy of growing their own food and preparing meals with their very own harvests through the Garden to Table programme. See their autumn garden diary below.
The Year 5's at Te Huruhi are in full swing with the Garden to Table programme and building on their skills each time they attend which is great to see. We've been having lovely autumn weather and we're all enjoying getting stuck into some digging, turning, mulching and replanting. We even found some Jerusalem artichokes that we'd forgotten we'd planted! Garden treasures are the best!
Both children and the gardens are thriving with the help of our amazing team of volunteers that bring a wide array of skills with them and happily turn up regularly with their gloves and a big smile. It really makes a difference to have their input and the programme could not run without the time, energy and skills they share so willingly.
We have lots of exciting things happening not least of which is that our Garden to Table gardens have been selected to be one of the gardens to participate in the Jassy Dean Garden Safari in November this year! We are all super excited about this as it is an event that attracts lots of people both from Waiheke and also from around the country. We have lots of great ideas about how to make sure our gardens are looking lush and bountiful and we'll be putting our Tui garden products to good use to make sure we stay on track! What a fantastic opportunity for us to showcase how the programme works in our school. This is a great opportunity for the children to plan ahead to an event that will need a reverse timeline to ensure seedlings to sell are at the appropriate stage for selling as well as the gardens looking great - ready to show off it's splendor at the right time.
With limited space we're commandeering a strip of garden by the school hall for Garden to Table that is currently a patch of weeds and other overgrown vegetation. We're planning a working bee to clear it out to turn it into a thriving herb, produce and bee and butterfly area. It's been left to it's own devices for some time so we'll need plenty of Tui Compost to give the soil a good boost but we've already put some Tui Seed Raising Mix to good use in anticipation of the space we'll have to fill. The children are enjoying using their new skills to work out what would be appropriate and what will be needed to make it a success. Watch this space, we'll keep you posted!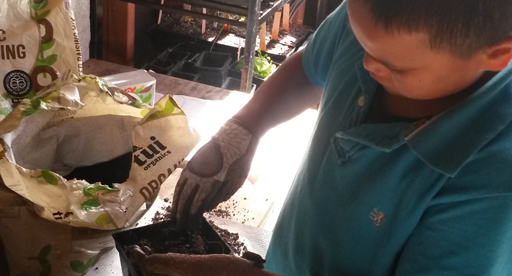 Over the summer we had a local group (Waiheke GROW Community Gardening Group) provide us with a grant to put in a timer operated irrigation system – what a difference this has made! Our Island is not reticulated, which means water is always a challenge and all the children grow up learning the value of the precious resource. As a result of the timer operated irrigation, our gardens are looking lush and the ground is lovely and moist where normally at this time of year it is dry and the plants struggle.
Our proximity to the beaches means that given favourable conditions we have an abundance of sea grass to use as mulch which really helps to keep the soil moist and the weeds at bay.
Also because of our location and micro climate, we don't have a large diurnal difference which means the soil doesn't get as cold overnight as in other parts of the country. This in turn allows us to grow a large variety of vegetables all year – although they do need a little more growing / ripening time and we still need to be mindful of shady spots. We're enjoying watching our latest batch of potatoes try to outgrow their bins!
As the seasons change we've had lots of jobs to do like collecting seeds from the summer crops like radishes, marigolds, beans, tomatoes and sweet peas. We managed to put in lots of crops before the school holidays so they have had a good start before the weather cools off. Brassicas, carrots, leeks, parsnips, beetroot, cavolo nero and broad beans are just some of the crops that are making great progress. Herbs and leafy greens just keep coming which is lovely and we've been enjoying lots of yummy treats from the kitchen crew who have been making the most of the abundant herbs for pesto, herb rolls and delicious salads.
All in all we've had a great start to the year and can be proud of ourselves for all the work we've put in. We're now starting to collect resources for rainy day winter activities like garden signs, scarecrows and garden art using recycled materials and a good amount of creative flair.
And as always it's such a pleasure to come together with the kitchen group to share in all that we have done, it's delightful to share with the children and volunteers a delicious meal that we've all had a hand in to grow, harvest, prepare and share. What a treat!
Tui & Garden to Table
We are excited to be supporting Garden To Table as our school programme this year. Garden to Table is a trust, which runs a gardening and cooking programme in schools across New Zealand. As participants in the Garden to Table programme, seven to 10 year-old children spend time in a productive vege garden and home-style kitchen each week. There they learn skills that will last them a lifetime, and discover just how much fun it is to grow and cook their own seasonal vegetables and fruits.
Tui is providing starter packs to each of the new schools, and seasonal packs during the year.