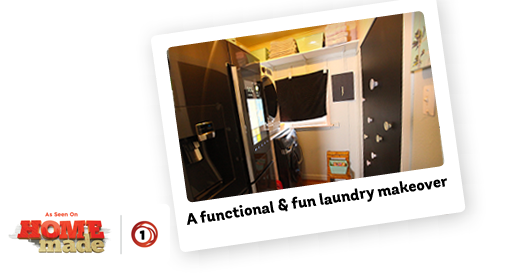 Laundries are often right at the bottom of the reno list, and can become uninspiring and downtrodden as time marches on. On HOMEmade, the family's laundry room was in dire need of a makeover, and not only because of the wear and tear. With nine kids in the family, the room needed to be in tip top shape.
The team got to work, moving the laundry from the front of the house to the back, beside the kitchen. The walls were painted in Resene Pumice, with a coat hook wall in Resene Blackboard Paint, and a new washing machine and dryer were installed. A massive family hub fridge for easy access from the kitchen was also moved in.
Thanks to the help of Resene the end result is a utility space that is both practical and functional, helping the family to save time as well as making their life feel much more organised.
Before
After
Making use of every space, the laundry is now a great utilities room for the family of 11. The walls are painted in Resene Pumice, the ceiling and window surrounds are painted in Resene Soft Amber and the coat hook wall is painted in Resene Blackboard Paint.
The coat hooks are painted in testpots using Resene Dawn Pink, Resene Wafer Pink, Resene Del Rio, Resene Green Mist, Resene Locust, Resene Flax, Resene Hot Grey, Resene Oslo Grey and Resene Tiara.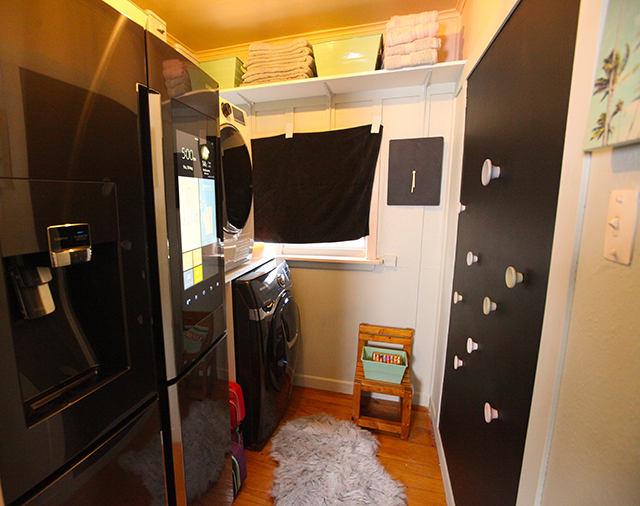 Check out this week's edible hedge garden makeover on HOMEmade here >