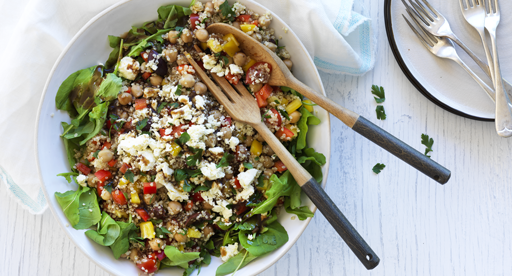 This delicious salad from Food in a Minute is packed with quinoa and chickpeas + other Mediterranean flavours. Paired to perfection with Eta's Caramelised Onion Dressing, this is a must try this spring as the weather warms!
Ingredients:
½ cup quinoa
400g can Wattie's Chickpeas in Springwater
1 small red capsicum, deseeded and sliced
1 small yellow capsicum, deseeded and sliced
12 cherry tomatoes, halved
Handful fresh Italian parsley leaves, torn
½ cup black olives (optional)
¼-½ cup Eta Caramelised Onion Dressing
Rocket leaves
50g traditional feta (optional)
Serves: 4-5
Prep time: 15 minutes
Cook time: 15 minutes
Method:
Rinse quinoa through a sieve with cold water. Drain. Put in a small saucepan and add 1 cup of cold water and cover. Bring to the boil. Reduce heat and simmer for 15 minutes until quinoa is tender and water has evaporated. Transfer to a mixing bowl and cool.
Add drained Wattie's Chickpeas, red and yellow capsicums, cherry tomatoes, parsley and black olives (optional).
Toss through Eta Caramelised Onion Dressing. Place rocket leaves onto a serving platter. Spoon over the prepared salad. Scatter over crumbled feta if wished just before serving.
For more tasty recipe inspiration visit