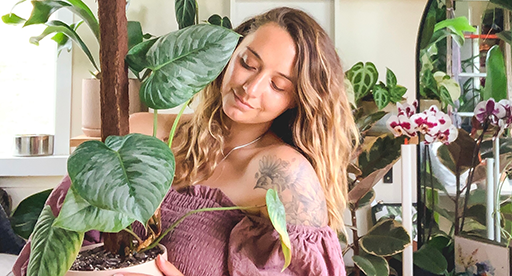 Kia ora! I'm Hollie and I live in a tiny home jungle in the beautiful Western Bay of Plenty. My indoor plant journey started back in 2017 with a single peace lily, and it has spiralled since then. Now in my 8m x 2.5m tiny home there are over 120 indoor plants of varying sizes and shapes.
Originally, I just loved the look of having a few green friends around the house, but soon realised that this was much more than just décor to me. It was a hobby that I was extremely passionate about. I loved learning about the different types of plants, what their needs were and what made them thrive. My home became a place where I could escape after work, unplug from my phone and tend to something that let me completely unwind. My love for indoor plants increased even more when I began propagating and gifting plants on to friends. I saw that these gifted cuttings and plants were bringing my friends so much joy and happiness! It became quite addictive.
There are only a few spaces left in the tiny home that haven't been completely taken over by plants. The small space meant that I needed to get creative! The entranceway is lined with shelves specifically for the plants, I fashioned a hanging plant shelf out of a bike pully system, a wire storage shelf and some wood. The top of the fridge is my propagation station, and every corner is graced with a big mature plant. My desk has been completely taken over with plants to the point where my laptop just squeezes in, but this is how I like working. The space is both relaxing and inspiring, and I feel like my creativity just flows there.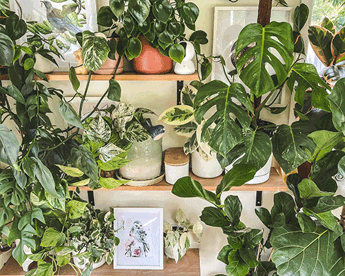 I often describe my tiny home as a green house on wheels. There are large windows on three sides and although this light is beautiful, too much of it can damage my plants. So, I installed light filtering blinds which are incredible for summer. Over winter I use grow lights and heat mats to keep my pickier plants happy and healthy. For the very special guys I also run my humidifier to try and recreate their tropical jungle home.
In the growing season I use Tui Enrich Pour & Feed Indoor Plant Fertiliser once a fortnight on all of my plants, this product is so incredibly easy to use and takes all of the guess work out of feeding my plants. Over winter I feed my plants once a month just to give them a little helping hand. They don't seem to stop growing over winter, they just slow down a little. I have tried a few foods now, and this is certainly my favourite.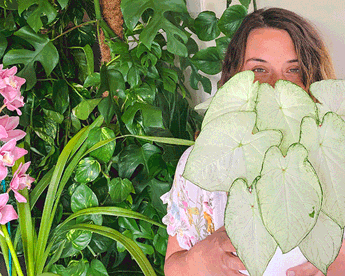 For Christmas this year my partner Sion bought me a little plant gift care pack and in it was the Tui Indoor Plant Insect Spray, this is now a must have in my collection. My variegated string of pearls caught a bad case of Mealy Bug and one treatment with the spray and they were gone! Never to return.
If I were to pass on one piece of advice to those starting their own indoor jungles, it would be to not worry if you fail. Plants teach you patience, and the process helps you find the plants that truly bring you joy. For me those plants are the mighty Philodendrons. Their big, beautiful leaves fill my home and I hope to continue collecting them as long as my home, and my heart, has room.
You can follow me on my plant journey here