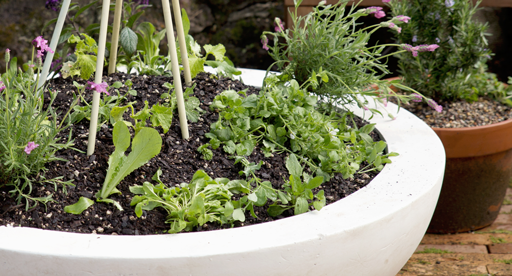 Growing vegetables, herbs, citrus and berries in pots is a wonderful way to enjoy fresh produce. It's a great option for those with limited space, and being portable they can move when you do.
As with growing anything in containers it's all about looking after the engine room of the plant, or the root zone as gardeners call it. Humans don't thrive without food or water and neither do plants.
Planting ideas and combinations
Cabbage family: all members of the cabbage family thrive in pots. Plant spinach, cauliflower, cavalo nero, broccoli and kale into Tui Vegetable Mix.
Rhubarb: there is always room for rhubarb – this hardy crop adapts to life easily in pots, select Tui Outdoor Container Mix and lay Tui Quash to deter slugs and snails in spring.
Hardy and humble herbs: tasty, nutritious and very versatile, herbs are excellent options for pots and containers. Fill pots with Tui Herb Mix, and don't be tempted to squash too many plants into one pot. Remember they all need root room. Great options for pots include mint, basil, chives, coriander and parsley.
Salad greens: fresh is best and fresh salad greens are only seconds away when you grow them at home. Mesclun, rocket and lettuces are all good to grow in tubs and containers. Plant in Tui Vegetable Mix.
Tomato, lettuce and sunflowers: a colourful and edible combination. Plant a single tomato seedling in the centre of a large pot, sow six dwarf sunflower seeds around the outside of this in a circle, then plant six leafy rather than hearting lettuces, like Frisby or Drunken lady around the edges.
Potatoes: recycled spuds. Old recycling bins and some fish crates are ideal for growing potatoes in. Sprout Tui Certified Seed Potatoes, allow 3-5 sprouted seed potatoes per container, and plant in Tui Vegetable Mix.
Strawberries: whether they are in pots or baskets, plant into Tui Strawberry Mix, for the best berries, water in Tui Organic Seaweed Plant Tonic every month or so to ensure a bumper crop.
Flowers: don't forget the bees – plant a variety of bee friendly flowers such as marigolds, poppies, polyanthus, violas, pansies, lavender and sweet William.
Dwarf fruit trees: select dwarf varieties for pots including apple, pear, cherry, nectarine, peach and citrus including lemon, lime and mandarin.
Tips and tricks
Choosing a pot
Loads of options are available, including: wine barrels, buckets, terracotta and pottery planters, hanging baskets, vegetable grow bags and old recycling bins.
Ensure the container has enough capacity to house the 'roots' of the crops you want to grow. Drainage is also essential.
Choosing the right mix
Like building a house a good foundation is the key to success in your garden. The better the soil, the better your plants will grow. When planting in pots or containers, choose a potting mix that is free draining and is suited to what you are planting.
Tui Pot Power a premium, lightweight and free draining potting mix suitable for all potted plants. It contains the added benefit of Acadian seaweed to stimulate root development and improve overall plant health and a controlled release fertiliser to feed your plants for up to six months. It also contains water storing granules for improved water holding capacity and SaturAid wetting agent to spread water evenly to the root zone.
You can also choose a mix specially designed for what you are planting e.g. Tui Herb Mix for garden-fresh herbs, Tui Strawberry Mix for juicy strawberries, or Tui Vegetable Mix specifically blended for delicious veges!
Planting
Once the mix is in place, seedlings and seeds can be sown and planted. Soak seedlings in Tui Organic Seaweed Plant Tonic to reduce transplant shock and to give plants a boost. Next sprinkle Tui Quash around to prevent slugs and snails enjoying your crops before you do.
By Rachel Vogan