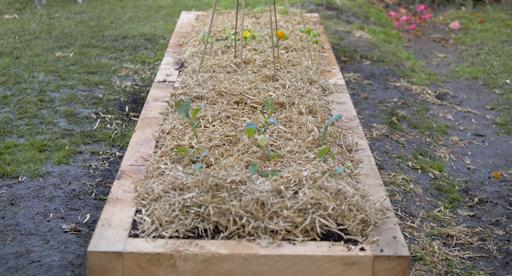 Plant your raised garden with a variety of salad greens, vegetables, fruit and herbs and enjoy fresh homegrown harvests on your table in no time!
Shopping list
seedlings, sweetpea seeds, bamboo stakes and ties.
Download a printable PDF version with helpful planting plans here
Prepare
If you don't have an existing garden bed and want to build one, check out our Building a Raised Vege Garden Guide here.
If you are starting with an existing garden bed, dig in plenty of sheep pellets and compost to condition the soil before you start planting.
Plant
1. If you're a first time gardener you may find it easier to grow from seedlings, rather than seeds, but there are some plants that grow best from seed, like peas, beans and carrots. Choose a range of vegetables you enjoy, so you don't get loads of the same vege ready at once, or end up growing things your family won't enjoy eating - check out our planting plans for inspiration.
2. For the sweet pea seeds, make a tepee using bamboo stakes.
3. Push sweetpea seeds into the soil around the base of the tepee. They will gradually climb up and create a real interest point in the garden and the beautiful flowers will attract the bees, which are essential friends in your garden.
4. Next, onto the seedlings! Before planting add a layer of Tui Pea Straw Mulch. This will help retain water to keep roots moist in the warmer weather, and also help keep your garden weed free. Note: You can add Pea Straw after planting if you prefer - either way is fine.
5. Soak each of your seedlings in a bucket of Tui Organic Seaweed Plant Tonic and allow to drain. This will help prevent transplant shock.
6. Make holes, approximately twice the depth and width of the root balls of your plants.
7. Place seedlings in the holes.
8. Press soil gently around the base of the plants. Repeat until all your seedlings are planted.
9. Water in well.
Nourish
10. Plants use nutrients from the soil as they grow, so replenish with Tui Vegetable Food every four weeks or to ensure you get maximum yields and long lasting crops.
11. Water your raised beds regularly. A good deep watering every few days is better than a shallow watering every day. A well watered, well nourished garden will have a better chance of keeping insect pests and diseases at bay.
Tui Tip
Offset plants in a zig zag pattern to help fit more in your beds.
Sprinkle Tui Quash slug & snail control around the seedlings. This is a low hazard bran-based formula which is safer for use around kids, pets and wildlife than traditional snail baits, and will protect your crops!