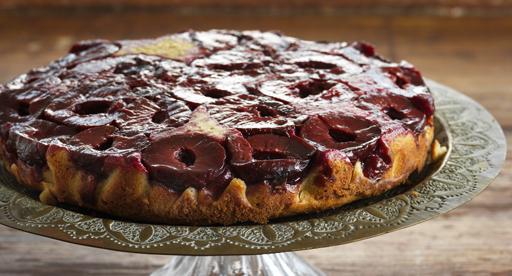 This upside down cake makes the most of the intense flavour and colour of Wattie's Black Doris Plums (or you can use your own!), beautifully displayed on top when turned out. Serve it with Greek-style yoghurt, which goes perfectly with the flavours of the cinnamon and plums.
Ingredients
850 g can Wattie's Black Doris Plums (or your homegrown plums!)
125 g softened butter
125 g brown sugar
1 tsp vanilla extract
2 eggs
200 g flour
2 tsp baking powder
½ tsp cinnamon
½ cup unsweetened natural yoghurt
Prep time: 20 minutes
Cook time: 40 minutes
Pre-heat the oven to 180°. Grease and line the base of a 23cm cake tin with baking paper.
Drain Wattie's Black Doris Plums. Carefully cut the plums in half and remove the stones. Place the plums cut side down into the base of the cake tin.
In a mixing bowl beat the butter, brown sugar and vanilla extract until creamy. Add the eggs one at a time, beating well after each addition. Sift the flour, baking powder and cinnamon into the creamed mixture and carefully fold in with the yoghurt.
Spoon mixture over the plums. Bake for 40 minutes or until cooked. A skewer inserted into the middle of the cake should be clean when removed. Stand in the tin for 5 minutes before turning out onto a cake rack to cool. Serve with Greek-style yoghurt or whipped cream.

Keep clean tip:
 If using a loose bottom cake tin stand the tin on a baking sheet as some of the plum juice may leak out of the tin while baking
For more tasty recipe inspiration visit