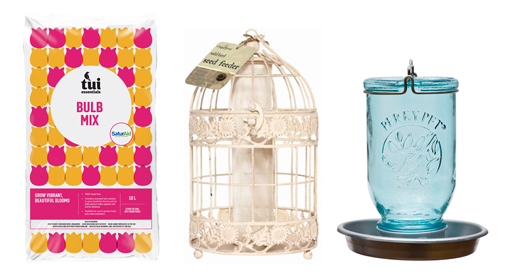 Along with a couple of our 'must have' autumn garden products, check out our new range of wild bird feeders to create a bird haven in your backyard!

TUI WILD BIRD SUET RANGE
Treat the birds in your backyard all year round with the new Tui Wild Bird Suet range including Tui Wild Bird Suet Balls and the Tui Wild Bird Suet Coconut Feeder. Rich in the protein and essential fats our feathered friends
need, Tui Wild Bird Suet Balls are suitable for use on a feeding platform or a suet ball feeder. The Tui Wild Bird Suet Coconut Feeder is a fun addition to your backyard, and provides a tasty high energy food source for wild birds in your garden.

TUI BULB MIX
Tui Bulb Mix is a high quality planting mix containing the right blend of nutrients to provide your bulbs with the best possible start and sustained growth throughout the season. We've added seaweed to this mix to encourage healthy growth and help protect bulbs against soil borne diseases. Use in your garden beds, pots and containers and watch your bulbs reach their flowering potential before your eyes.

SEASOL FOR LAWNS
Your favourite Seasol now has a specially formulated lawns product! For a lush green lawn use new Seasol for Lawns, a liquid fertiliser and health treatment all in one which feeds and revitalises your lawn while conditioning the soil. Using Seasol for Lawns encourages vigorous, healthy growth with enhanced root system development, and the inclusion of a wetting agent ensures valuable water and nutrients can penetrate the root system.

PERKY-PET® MASON JAR FEEDERS
Add a rustic appeal to your backyard and feed your feathered friends at the same time with the new Perky-Pet Mason Jar feeders. Water is an essential element for attracting birds. The Perky-Pet Mason Jar Wild Bird Waterer offers fresh, clean water to attract a larger variety of birds. The Perky-Pet Mason Jar Wild Bird Seed Feeder is sure to provide plenty of room for your feathered friends with its eight feeding ports. The metal base is easy to clean. Simply unscrew the bottle from the base and clean in warm soapy water.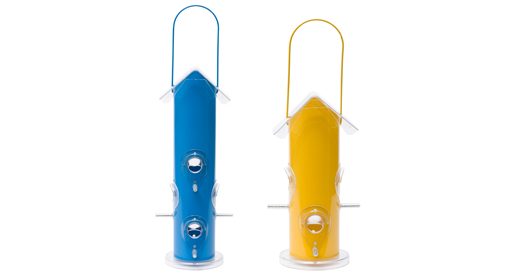 PERKY-PET® METAL TUBE FEEDERS
Add some colour to your piece of paradise with the Perky-Pet Metal Tube Bird Feeders! Available in punchy blue and yellow, these feeders make a modern addition to your garden. Simply fill the Perky-Pet Metal Tube Bird
Feeders with seed, place in a quiet and convenient place and enjoy the sight of a variety of birds flocking to your feeder. The Metal Tube Feeders are easy-tofill, with removable parts for easy cleaning and are powder coated for rust resistance.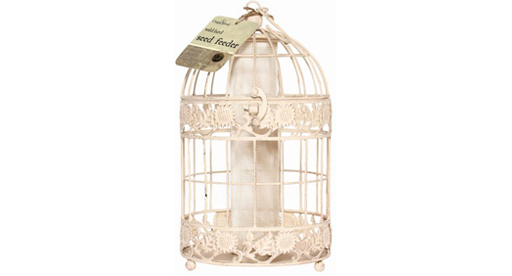 CHAPELWOOD ANTIQUE FEEDER
Make a statement in your backyard and feed the wild birds visiting your garden at the same time with a Chapelwood Antique Seed Feeder. Available in cream, this feeder is rendered in an ornate filigree style, featuring a weathered finish. It holds a sturdy feeder tube and it's fast flowing ports allow feed to pour out from the tube onto a surface deck.