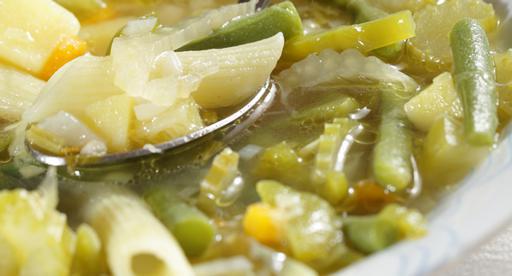 Get your vege fix and keep warm as the evenings begin to cool with Simon's hearty green minestrone recipe - packed with goodness!
Ingredients
6 tablespoons olive oil, divided
1 leek, white and pale-green parts only, chopped
½ small fennel bulb, finely chopped
½ small white onion, finely chopped
2 celery stalks, thinly sliced
4 cups low-sodium vegetable or chicken stock
1 cup of slice been beans
1 cup fresh shelled peas or fava beans (from about 1 lb. pods) or frozen
1 cup diced courgettes
1 cup of shredded young silver beet leaves
Salt and freshly ground black pepper
½ cup fregola, ditalini, or other pasta
1½ cups (lightly packed) fresh flat-leaf parsley leaves
½ shallot, finely chopped
1 bunch of spring onions, thinly sliced
Shaved parmesan (for serving)
Prep time: 30 mins.
Heat 2 Tbsp. oil in a large heavy pot over medium heat.
Cook leek, fennel, yellow onion, and celery, stirring occasionally, until softened but not taking on any color, about 5 minutes.
Add broth; bring to a boil, reduce heat, and simmer until vegetables are just tender, 10-15 minutes.
Add sliced beans and peas and simmer until just tender, about 5 minutes
Add courgettes, season with salt and pepper.
Meanwhile, cook pasta in a large pot of boiling salted water, stirring occasionally, until al dente. Drain and add pasta to soup.
Add silverbeet and wilt.
While pasta is cooking, process parsley and remaining 4 Tbsp. oil in a food processor to a coarse paste.
Transfer to a small bowl, and mix in shallot and spring onions.
Season pesto with salt and pepper.
Serve soup topped with parmesan. (Also works well topped with pesto and/or pearl onions.)