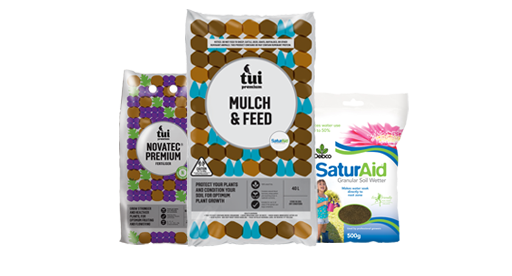 Spoil your garden with our top summer product picks and maintain a healthy and flourishing garden – perfect for enjoying the longer days! Read on to discover our smart summer products and get the most out of your garden this season.
Water saving
How can I conserve moisture and stop my plants drying out?
Tui Mulch & Feed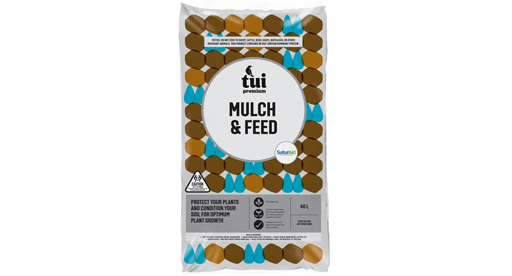 Give your garden some extra TLC this summer. This convenient two-inone combination provides the benefits of mulching whilst the healthy additions of blood and bone, mulching straw and sheep pellets replace vital nutrients used by your plants. Mulching protects your plants from extremes in temperatures, keeps roots moist, suppresses weed growth and creates a tidy, well cared for look. Use Tui Mulch & Feed throughout your garden to keep your piece of paradise looking top-notch.
Debco SaturAid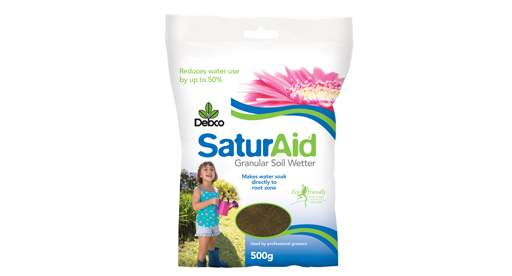 Debco SaturAid granular soil wetter is a unique and worthwhile addition to all gardens, particularly in summer. It promotes even water distribution, making watering, rainfall and fertilisers more effective, even in sandy, clay or compacted soils. Apply SaturAid to garden beds and pots to assist water reaching the root zone of plants. This will help your plants make the most of water, and can reduce water use by up to 50%.
Nourish
How do I keep my plants well nourished over the hot summer months?
Tui NovaTec Premium fertiliser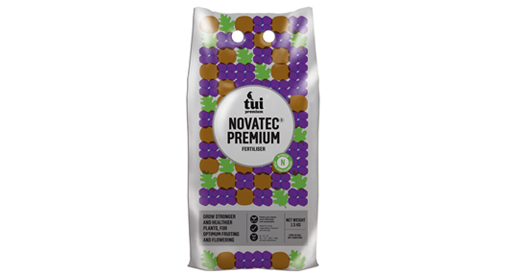 Not all fertilisers are created equal. Developed using nitrogen stabilising technology Tui NovaTec Premium fertiliser provides a sustained release of easy-to-absorb nitrogen, feeding your plants for up to four months. Each granule has the same amount of nutrients, so your plants receive a balanced and even spread of all essential nutrients and won't be overfed. This combination results in stronger, healthier plants and higher yields from your garden. Use throughout your garden, and in pots and containers, to reap the rewards of plentiful harvests and prolific blooms this spring.
Nitrosol Liquid Fertilisers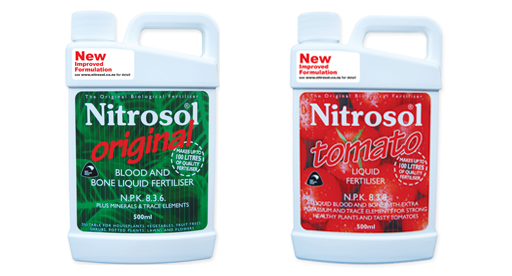 Nitrosol Liquid Fertilisers have a new and improved formula. The renowned Nitrosol Liquid Fertiliser range made from blood and bone has been improved with additional amino acids and a higher level of nutrients for improved plant growth. Nitrosol Liquid Fertilisers contain essential elements, minerals and growth promotants for strong, healthy plants. Try the new and improved Nitrosol Original and Nitrosol Tomato Liquid Fertilisers this summer and see the outstanding results for yourself!
Seasol - Don't just water your garden!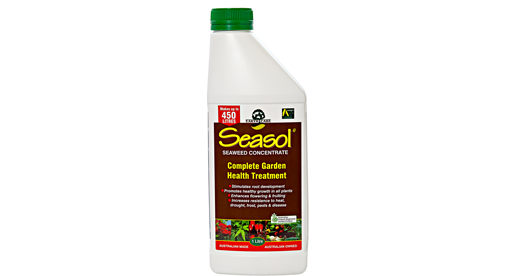 Seasol is your complete garden health treatment! The best way to create and maintain a stunning garden is to use a plant tonic in addition to garden fertilisers. Seasol is a liquid seaweed extract that contains high levels of naturally occurring growth stimulants and other essential compounds which promote strong root growth, reduce transplant shock, help plants cope with temperature extremes and stress including heat and drought.