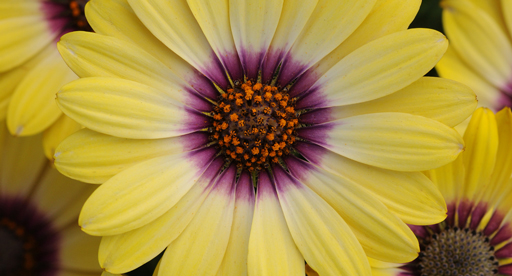 Spring is a busy time in the garden, with the days getting longer and the soil warming up it's a perfect time to plant delicious spring crops and to fill your backyard with some vibrant colour! To help you on your way and keep your piece of paradise in tip top shape this season here are our top spring garden picks.
Osteospermum Blue Eyed Beauty
Unique buttery yellow blooms with a contrasting magenta eye smother this Osteospermum all summer. This easy to grow, early flowering variety is perfect for filling garden beds and containers, or edging sunny borders. Visit www.zealandia.co.nz to find out more.
Tui BioGro Certified Organics planting range
Nothing beats the taste of fresh seasonal vegetables you've lovingly tended from seed, or the sweet scent of flowers blooming in your backyard. Gardening with Tui's range of BioGro certified products means you can rest assured you have maximised the natural goodness in your garden. The range includes: Tui Organic Potting Mix, Tui Organic Compost, Tui Organic Seed Raising Mix and Tui Organic Vegetable Mix.
Tui Rose & Shrub Mix
Grow vibrant, beautiful blooms and luscious foliage with new Tui Rose & Shrub Mix, a high quality planting mix containing the right blend of nutrients to provide your roses and shrubs with the best possible start and sustained growth. Use in garden beds, pots and containers and enjoy beautiful blooms and luscious growth this season.
Tui Garden Trug
Collect and carry your garden harvests in style with the new Tui Garden Trug. This is an essential accessory in your garden this spring.
Nitrosol
For healthy plants and soil, feed your plants with Nitrosol Liquid Fertiliser. Made from blood and bone, Nitrosol contains the essential elements and minerals for healthy plants. Nitrosol also contains natural growth promotants, which help grow bigger, stronger, healthier plants, along with stimulating plants to take up available nutrients and water from the soil.
Nitrosol Tomato Liquid Fertiliser contains extra potassium and trace elements, in addition to blood and bone for strong healthy plants and tasty tomatoes.
Petunia Sun Spun Orange
Petunia Sun Spun Orange is an easy flowering petunia with nonstop vibrant orange blooms that do not fade. Its tight compact growth habit is suitable for in the garden, hanging baskets or pots. Visit www.zealandia.co.nz to find out more.
Tumbleweed Worm Feast
Recycle your kitchen scraps straight into your garden to energise your soil! The Tumbleweed Worm Feast is an easy to use in-ground composting system where composting and earthworms process food scraps and naturally fertilise your garden. Dig the Worm Feast directly in your vege or flower garden.