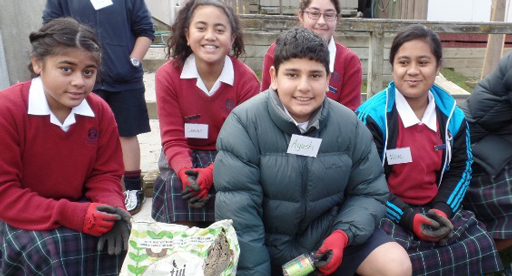 The gardening superstars at Garden to Table school St Anne's Primary School in Wellington share their latest gardening projects and the garden harvests they have been using in their kitchen to make delicious recipes!
School garden update
School name: St Anne's Primary School
Region: Wellington
Planning
We started making a plan for our garden. The students are still learning about crop rotation and about plant families and we are taking advice from our garden expert. We are filling in a plan when we plant new veges so we know which veges are planted where in the garden.
Planting
We are trying out a traditional three sisters garden by planting corn, beans and pumpkin together. Corn is planted first, then beans to grow up the corn, and finally pumpkin. We have planted potatoes in tyres, two types of onions, beetroot, zucchini seeds and yummy silverbeet.
Harvesting
This month in the garden we have been harvesting silverbeet, kale, celery, parsley, coriander, rhubarb and spinach. We take some veges and give them to the parish; we use most of our veges for Garden to Table. We enjoy making vege risotto, soups, kale chips, potato curry, vege frittatas and tomato salsa.
Maintenance
As part of our garden maintenance we have been weeding and composting, watering out plants, preparing the soil for spring planting, organising our garden shed and washing and caring for the tools.
Sustainability
Each class at St Anne's collects their food scraps for compost. The students enjoy making our own compost to use in the garden. We recycle paper and cardboard and have done a waste audit with the Sustainability Trust.
Tui products used in the garden this month:
Tui Seed Raising Mix for germinating our seeds.
Tui Compost and Tui Vegetable Mix for planting the potatoes.
Tui Lime for adding to our compost.
Tumbleweed Worm Café so we have worm tea for our garden!
We also used coffee grounds from the local café.
Top garden tips for winter:
Plant light feeding veges in the garden first, followed by heavy feeders.
Weed the garden so the vege plants get more nutrients.
Plant the right plants for the season.
Check out St Anne's tasty Green Vegetable Risotto recipe
Tui & Garden to Table
We are excited to be supporting Garden To Table as our school programme this year. Garden to Table is a trust, which runs a gardening and cooking programme in schools across New Zealand. As participants in the Garden to Table programme, seven to 10 year-old children spend time in a productive vege garden and home-style kitchen each week. There they learn skills that will last them a lifetime, and discover just how much fun it is to grow and cook their own seasonal vegetables and fruits.
Tui is providing starter packs to each of the new schools, and seasonal packs during the year.