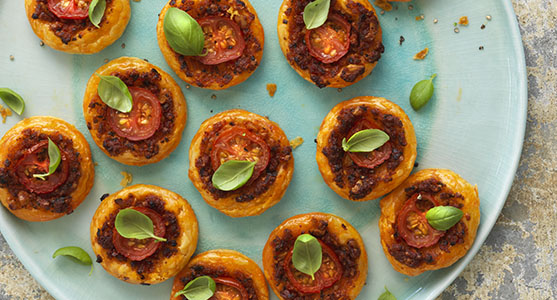 These look impressive, but are super easy to make with the help of Mediterranean Sundried Tomato Chunky Dip. It only takes four simple ingredients to create these delicate pastry tartlets - Bellissimo!
Ingredients
2 sheets ready rolled puff pastry
1 egg, beaten
135g tub Mediterranean Sundried Tomato Chunky Dip
12 cherry tomatoes, sliced
Fresh basil leaves to garnish
Prep time: 15 minutes
Cook time: 8 minutes
Preheat the oven to 180°C. Line a baking tray with baking paper.
Use a 6cm round cookie cutter to cut circles out of the puff pastry. Place onto baking tray.
Use a smaller cookie cutter to score a ½ cm wide border around each pastry circle. Prick the pastry inside the score lines and brush each pastry circle with a little beaten egg.
Spread a teaspoon of Mediterranean Sundried Tomato Chunky Dip inside the border of each circle and top with a slice or two of cherry tomatoes.
Bake for 8 minutes or until the pastry is golden brown. Garnish with fresh basil leaves.
 For more tasty recipe inspiration visit