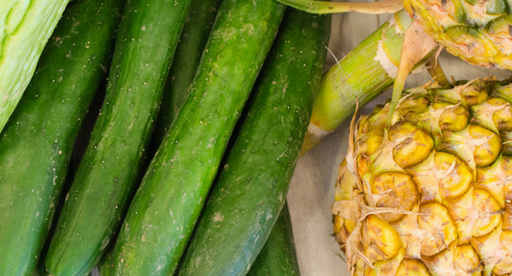 Thank you to Susan from Northland for sharing her recipe for Pineapple & Cucumber Relish in the Summer Harvest Recipe Competition.
Ingredients:
4 large cucumbers (approx 14-16 apple cucumbers)
2 x 425g tins crushed pineapple
8 onions
3 cups white vinegar
2 1/2 cups white sugar
2 cups water
2 tsp mild curry
2 tsp tumeric
2 tbsp salt
4 tbsp cornflour
1/4 cup vinegar (extra)
Peel cucumbers if desired, slice lengthways, scoop out seeds and discard them, then slice the cucumber.
Cut onions in half and slice.
Combine all ingredients except cornflour.
Boil well for a good 20 minutes (I put lid on to bring to bring to boil, but take off before moisture drips into pickle and dilutes it).
Combine cornflour with 1/4 of cup of extra vinegar, add and stir for 5 minutes or until it thickens.
Follow our Cucumber Growing Guide here >