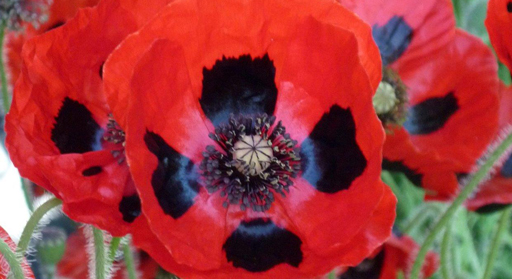 Poppies are truly remarkable flowers, steeped in history, with forgiving natures, with even the smallest pockets of soil, most people have room in their garden for poppies.
Once you have planted poppies once, you will find that each season they will pop up again. This isn't because they are long lived plants (they are annuals which means they live and die within one growing season), but is due to their generous spirit - they readily set seed once they finish flowering. And as they germinate so easily from seed, you often find once you have planted poppies once, they reappear each season.
The soldier poppy or Flanders Poppy associated with Anzac day, is easy to recognise with its dark red petals and black ink-like marks at the base of each petal. Its origin lies in the red poppies which appeared in the battlefields at Flanders in Belgium after the guns had stopped firing. They are a symbolic representation of hope and gratitude to those involved with the war. To find out more about the commemorative poppies visit www.rsa.org.nz
Growing Poppies:
Sowing poppy seed
Poppies enjoy light (sunlight) to germinate. Only cover with a very thin layer of soil when planting in the garden; or when sowing seeds in trays of Tui Seed Raising Mix. However, Oriental poppy is fine seed and needs more light to germinate, so don't cover with any soil.
Poppies for free: Save you own seed
After poppies finish flowering, the flowers turn into very attractive seed pods, inside these pods are dozens of seeds. Collect the seed heads and store somewhere dry and dark until next season, a nice idea is to post a few to a friend and share the poppy love.
When, where to plant, sow and grow:
Poppies do not thrive in the intense heat of summer, hence they are at their best in spring, autumn and winter. Poppies grow easily from seed, seeds are best sown in late August, early September. Plant loads so you can really appreciate them on mass. Poppies enjoy full sun, a rich soil; they happily thrive in pots and containers, filled with Tui Pot Power or Tui Flower Mix. Lay plenty of Quash around to keep the slugs and snails away.
Pick and Mix:
Poppies look fabulous mixed into the vegetable garden as well, for winter colour, plant with cabbages, broccoli, winter lettuce, beetroot, Brussels sprouts and kale. For spring interest, team them up with rocket, mizuna, potatoes, yams, herbs, rhubarb, onions and carrots.
By Rachel Vogan