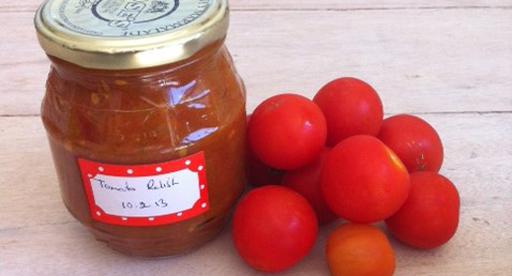 Preserves and pickling are a great way to make your harvests stretch well into the coming seasons. The chilli in this tomato relish gives in a little bit of heat to make it extra tasty.
Ingredients:
1.5kg tomatoes
1 fresh chilli
6 medium onions
6 cloves garlic
3 C raw sugar
1.5 C cider vinegar
7 tsp salt
6 tsp curry powder
6 tsp mustard powder
6 tsp cornflour
4 Tbsp cider vinegar
Cut a small 'x' across the top of each tomato.
Place tomatoes in a bowl, cover with boiling water and leave for 1 minute.
Drain tomatoes, rinse with cold water and peel off skins.
Roughly chop tomatoes.
Finely chop the onions and garlic.
Place the tomatoes, onions, garlic, sugar, chilli, 1.5 C vinegar and salt in a large saucepan and bring to the boil.
Reduce heat and gently cook for 50 minutes.
Mix the mustard, curry powder and cornflour with the 4 Tbsp vinegar to a smooth paste.
Stir into the tomatoes and cook until thickened.
Sterilise jars, spoon in mixture and seal.
Leave in the pantry for approximately two weeks.
Refrigerate once opened.