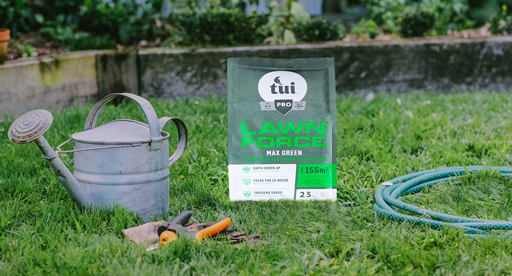 A lush, green lawn really sets off your home and is the pride and joy of many gardeners! A successful lawn takes a little bit of effort, but provides very rewarding results making you the envy of the neighbourhood. Here are Tui's top tips to grow a beautiful lawn.
1. SOW IN THE RIGHT SEASON
Sowing your lawn in the right season will mean the best chance of success. Spring and autumn are the best times to sow a lawn.
2. PREPARATION IS KEY
To ensure you have a successful lawn the soil needs to be in the best possible condition to give lawn seed the best chance of germination. Remove any unwanted weeds and grass, and add a 50mm layer of Tui Lawn Preparation Mix to the area to provide lawn seed with a base of essential nutrients and fertiliser to promote fast germination of lawn seed and sustained growth.
3. NEUTRALISE ACIDIC SOIL
If your soil is too acidic (a simple pH test will reveal this), add Tui Lime or Tui Dolomite Lime to neutralise and improve soil condition.
4. KEEP YOUR LAWN WELL WATERED
Add Debco SaturAid to assist with water distribution before sowing lawn seed. Debco SaturAid granular soil wetting agent holds water in the soil and distributes it evenly and directly to the root zone. It will make your watering efforts more efficient, reducing water use by up to 50%.
5. SELECT THE RIGHT BLEND OF SEED
Choose the right variety for your backyard from the Tui Superstrike Lawn Seed range. Whether you need a low maintenance lawn, a hardwearing lawn for high traffic areas, a fine textured lawn, a drought tolerant lawn for sandy soils, or are trying to grow a lawn in a shady spot, the Tui Superstrike Lawn Seed range has the perfect seed type for you.
6. SPREAD SEED EVENLY
Sow seed on a fine day at the rate set out on the packaging. Scatter seed in an east to west direction then a north to south direction to ensure an even spread, so you end up with even coverage.
7. KEEP YOUR LAWN NOURISHED
Apply Tui LawnForce New Lawns slow release fertiliser to encourage lush, thick, green growth in your lawn. Once established, fertilise your lawn in spring and autumn with Tui LawnForce All Purpose or Tui LawnForce Max Green. Well nourished lawns will have a better chance of keeping weeds, pest insects and diseases at bay.
8. STOP PRICKLES!
Spray for prickles in autumn and spring to prevent spikes from setting.
9. GREEN IT UP
In early spring after winter and autumn after summer, your lawn can be looking a little tired and brown. To get it back to a lush deep green colour apply Tui LawnForce Max Green. Engineered with additional iron to green up your lawn in as little as three days, and essential nutrients for up to ten weeks feeding, Tui LawnForce Max Green delivers long lasting results for your lawn.
Available as a 2.5kg granular fertiliser and a 1L liquid hose-on. 
10. STOP DOGS BURNING YOUR LAWN
If the patches in your lawn are caused by your dog's urine, add vinegar to the dogs water to help neutralise it and prevent it burning the lawn.
For more tips check out our Lawn Guide here