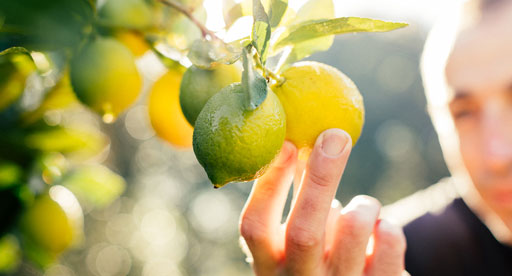 With summer on it's way fresh citrus will soon be waiting to be plucked from the branch! We have answers to your most common citrus questions to help you grow a successful crop this season. Share your top tips below in the comments section!
My lemon tree has lots of lemons which don't have any juice. Do you know why? Thanks, Pauline.
Dry lemons are normally caused through lack of water over the summer period as the fruit is forming. You can't get the moisture into your current seasons lemons but you can fix the problem so it doesn't happen next year, by watering more regularly. It can also be caused by lack of fertiliser. Now is the right time to apply Tui Citrus Food around the base of the plant then again at the end of fruiting, add a layer of mulch around the base of the plants after you fertilise to help the soil retain moisture. For citrus in containers, we recommend using Tui NovaTec Premium fertiliser.
My lemon tree has plenty of lemons on it but no leaves. What could be causing this? Thanks, Amy
Citrus are evergreen but do drop leaves, usually when they are stressed, too cold, have too much fertiliser, or not enough fertiliser, if there's frost, or they are too wet. I would suggest regular doses of Tui Organic Seaweed Plant Tonic every seven days until the tree starts bursting into leaf. Give it regular feedings in spring and summer when temperatures warm up. Don't feed it in winter as the tree isn't actively growing. Try adding sheep pellets to nourish the soil and mulch around the tree so it doesn't dry out in summer. If it is in a pot and become pot bound it might need re-potting.
I've planted a small meyer lemon tree. How often should I feed the tree, all seasons except winter? Thanks, Karena
With a citrus fertiliser such as Tui Citrus Food, you should only need to apply twice a year in spring and summer (before and after fruiting) unless you are lucky enough to have a tree that produces fruit year round and have no risk of frost then you can apply more regularly. If you'd like you can also feed it more regularly with a liquid fertiliser such as Tui Organic Seaweed Plant Tonic which has no risk of over-feeding and lots of benefits for your tree.
I have a 10 year old kaffir lime tree in a big pot. Every winter it would shed all the leves and then regrows new shoots every spring but I find in the last couple years the leaves keep going yellow and curled up. Can you help? Thanks, Muny
Sounds like the plant is root bound, therefore there are two options: You can repot - take out of the tub, trim roots and repot in Tui Pot Power. If repotting not possible, sprinkle Debco SaturAid to help water penetrate to the dense root ball and use Tui NovaTec Premium Fertiliser twice a year - now and late summer to provide nutrients. Also put sheep pellets around in the pot for an extra boost of nitrogen and regularly use Tui Organic Seaweed Plant Tonicto keep it healthy.
Why is citrus food not suitable for use in containers? Thanks, Margaret
We generally don't recommend using our Food range (including Tui Citrus Food) in pots and containers because it is not a slow release fertiliser and can overfeed in a smaller space e.g. pot or container, especially if not applied in the correct amount. This will then affect the plant.  We recommend a controlled release fertiliser such as Tui Enrich Fruit, Citrus, Tree & Shrub for use in pots and containers.
We have recently brought a property and have a few fruit trees. The leaves are turning yellow on my mandarin tree. I have tried feeding with citrus food and worm castings, do you have any other ideas please. Thanks, Jacqualine
If magnesium is deficient then the leaves will turn yellow. Your tree will benefit from a dose of Epsom salts which is magnesium. Use Tui Epsom Salts.  Also make sure your tree is free from weeds which will compete for water and nutrients and mulch around it to help conserve soil moisture as well as keeping weeds down.
Just wondered if you have a nice way to get rid of the ants on my citrus trees but not disturb other insects like the bees! Thanks Maureen
Fortunately, the ants do not harm the fruit, they are there because there will be an insect exuding a honey dew such as scale, aphids, or mealy bug. By controlling these insects you should not attract ants. Check at your local garden centre for a suitable spray. 
We have an orange tree in our backyard but the oranges never ripen properly, they never turn orange and when cut open they are pretty well tasteless and mushy. What could be the cause of this please?
Oranges require a long warm summer and mild winter to fruit successfully. If your climate is right, the most likely reasons for the lack of fruit is the plant isn't getting enough nutrients from the soil. Fertilise in spring and summer with Tui Citrus Food. It would also be useful to prune back your orange tree to encourage some new growth and fruiting wood. The more air movement and sunlight the plant can get the more likely the fruit will ripen. Water frequently in summer as this is when the fruit is developing its flavour and size.
Hi, my lemon tree is looking lovely and lush with green leaves and new growth after giving it a dose of citrus food. It's two years old and had two blossoms when I bought it. Once planted, the fruit dropped off when they were only about 1cm long, and it hasn't blossomed since. Do you know why? Thanks, Vicky
As the plant is only two years old it is not a problem that it is not flowering as it is good for the tree to spend energy in establishing its roots first. We suggest feeding with Tui Citrus Food or Tui Enrich Fruit, Citrus, Tree & Shrub in early spring and late summer to assist with flowering.