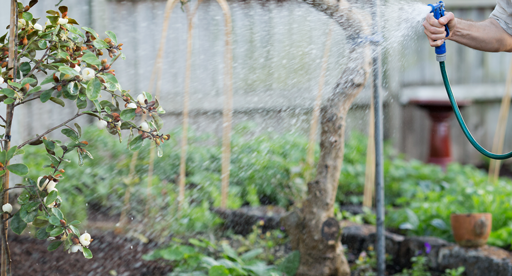 In the summer garden, delicious spring vege crops are ready to harvest, flowers are blooming and it's generally sunny and warm.
Take time to enjoy your garden but also take time to protect it so you get the most from your plants.
Watering
Apply Debco SaturAid granular soil wetter to garden beds and pots to assist water reaching the root zone of plants.
Water in the morning or evening to avoid water evaporation. A good deep soak every few days is better than shallow watering every day. This will encourage deep roots and helps plants to better survive short term drought.
Add Tui Organic Seaweed Plant Tonic to your watering can at least every month to help them thrive and cope with the summer heat.
Dig in Tui Compost before planting to replenish nutrients used by previous crops. Compost is an excellent water saver as it increases moisture holding capacity in soil.
Pests and disease
Check your crops for signs of pest and disease like aphids, caterpillars, powdery mildew, and of course slugs and snails. Control slugs and snails with

 

Tui Quash.
Ensure plants have good airflow and enough light around them especially courgettes, tomatoes and cucumbers.
Harvest and care
Harvest veges regularly to help promote more growth throughout the season.
Strawberries - the more you pick the more they will grow! Remove old leaves and parts of the plant that look unhealthy. Apply Tui Strawberry Food regularly.
Prune peach, plum and nectarine trees on a clear, dry day.
Pick vibrant blooms including roses, hydrangeas, dianthus, delphiniums, lilies, gladiolus, sweet peas, geraniums, cosmos, and sunflowers for fragrant floral displays.
Make the most of your blooms with basic maintenance - dead heading, weeding, watering, and feed with Tui NovaTec Premium fertiliser.
When should I plant
in
Jan
Feb
Mar
Apr
May
Jun
Jul
Aug
Sep
Oct
Nov
Dec
Harvest in

40-70

days