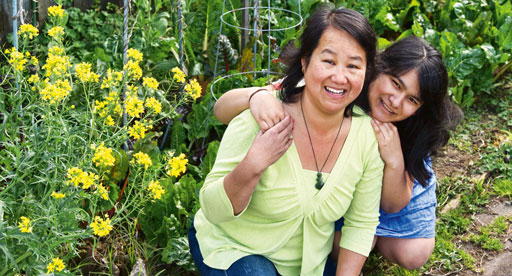 We caught up with some of this year's category winners and gained some great tips to share! You can share your top garden tips below in the comments section.
Lin Chetty - My Gardening Mentor
Nominated by daughter Jaclyn Chetty, Lin "is a mother to the whole community", and Lin supplies half her neighbourhood with greens. Jaclyn says: "She isn't just my Gardening Mentor, she's a mentor to hundreds of others too."
Top gardening tips:
To help stop fungal disease on my tomatoes I spray with skim milk, and also add milk powder into the planting hole when planting.
To deter cats I put dock weed into a milk bottle and wait for them to decompose before adding to my garden as cats hate the smell!
Michael Matthews - My Grow your own guru
Undergoing dialysis three times a week hasn't stopped Tauranga resident Michael Matthews from gardening – it's inspired him, to improve the health of his community.
Top gardening tip:
I plant regularly to ensure a continued supply of leafy vegetable such as broccoli, cauliflower, Brussels sprout, beetroot and a summer favourite – sweetcorn.
Omokoroa Country Estate - Best Community Project
These retirees have set up their own shared garden space, which has helped foster a greater sense of community among them and built friendships.
Top gardening tip:
Graeme Goodin – It is very important to remove any diseased strawberry plants as soon as they are detected. I keep half of last year's new plants from runners, this gives quantity from the older plants and larger sized fruit from the new plants.I use wood shavings as mulch to help retain moisture for the plants.
Owen Takuira-Ngaropo - Make a difference gardener
Owen Takuira-Ngaropo was tired of his street in Papamoa being known for the wrong reasons. He saw people struggling to provide their families with three meals a day and he wanted to do something about it. Now, what was once an unused mowing strip behind Hartford Ave, is a thriving community garden known as The Rock.
Top gardening tip:
Preparation is paramount. Act accordingly to what you are planting – seeds or seedlings. If you give your crops a good start they will be good to you.
St Anthony's School Pahiatua - Best School Garden
These kids are so passionate about gardening that they've dug up some of their playground for new plots. Supported by their teachers and experienced vegetable gardener Traci Wheeler, one of their main focuses has been to provide the local food bank with veges they've grown.
Top gardening tip:
Make your own paper pots to raise your seedlings, we recycle our scrap paper and newspapers. The paper pots can be planted straight into the ground as they will rot and the plants roots will not be disturbed.