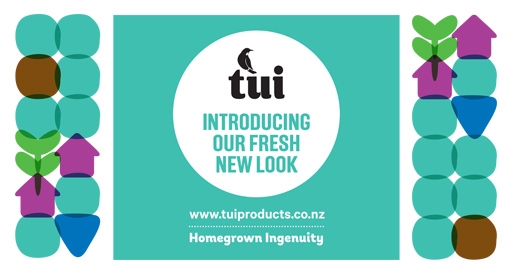 Tui has a fresh new look, but we're still the same friend in your garden that you've come to know and trust.
Tui has built its reputation on quality products, practical advice and simple tips for gardeners, but we don't rest on the laurels of last season's crop. We have a fresh new look, and we are expanding our offering in other retail categories including smart solutions for around the home, like our Tui Firestarters you may have seen this winter. We call it Homegrown Ingenuity.
Initially you will see Tui's new look in items like our website, newsletter and Tui Summer Times publication and we will be gradually updating our packaging. In the mean time, know that we're still the same Kiwi brand you have come to know and trust in your garden.
Just like the Tui bird, our contemporary new look has a lot of character. Its fun and distinctive style will become quite recognisable, as we gradually update all our products. Look out for our Tui bird in the white 'full moon' circle along with our always distinctive bright colours to find effective products, reliable advice and practical know-how.