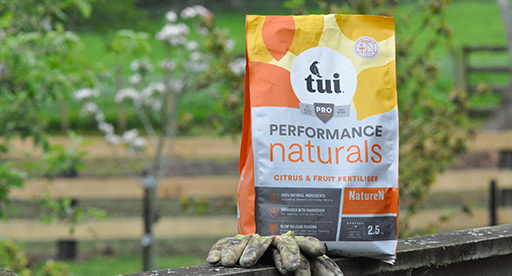 It's a great time of year to grow citrus & fruit trees for a mini orchard in your own backyard.
Our Tui Performance Naturals Citrus & Fruit Fertililser has all the necessary nutrients to keep your citrus & fruit naturally healthy over the growing season. 
Tui Performance Naturals Citrus & Fruit Fertiliser 
Our naturally powerful citrus & fruit tree fertiliser comes in a 2.5kg pelletised form or an easy to use 1L liquid concentrate.
It's powered by NatureN, a unique fast acting natural source of nitrogen to promote rapid growth. It also contains seaweed  to increase plant resistance to pests and diseases and improve tolerance to temperature fluctuations, bio stimulants for healthy soil microbial activity and is boosted with magnesium to grow healthy fruit and keep leaves green all year round. 
The packaging also contains recycled material, and is all recyclable. The 2.5kg bags are made from 40% recycled plastic and recyclable through the soft plastics recycling scheme. The bottles are made from 30% recycled plastic and recyclable though regular curbside recycling.
Grow an abundance of tasty fruit, on a variety of fruiting plants with only 100% natural ingredients!
When should I plant
in
Jan
Feb
Mar
Apr
May
Jun
Jul
Aug
Sep
Oct
Nov
Dec
Harvest in

2-4

years