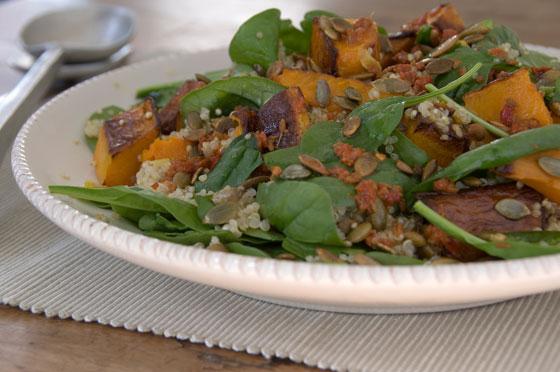 Tasty and seriously good for you, if you haven't tried quinoa then this salad might just convince you it's a good cupboard staple.
Ingredients
1 kg crown pumpkin, chopped into 3cm chunks
2-3 tablespoons olive oil
1/2 cup pumpkin seeds
1 cup quinoa
3 cups baby spinach leaves
2 teaspoons prepared harissa
1/2 cup extra virgin olive oil
Preheat oven to 200 C.
Place pumpkin in a roasting pan and drizzle with olive oil.
Bake for 20-30 minutes until pumpkin is tender and golden.
Add pumpkin seeds to the pan for the last 5 minutes of cooking.
Meanwhile cook the quinoa in 2 cups of water in a covered saucepan until water is absorbed.
Place the warm pumpkin, seeds, quinoa and baby spinach leaves in a bowl or platter.
Mix the harissa with the extra virgin olive oil and drizzle over the salad.
Recipe supplied courtesy of http://www.foodlovers.co.nz