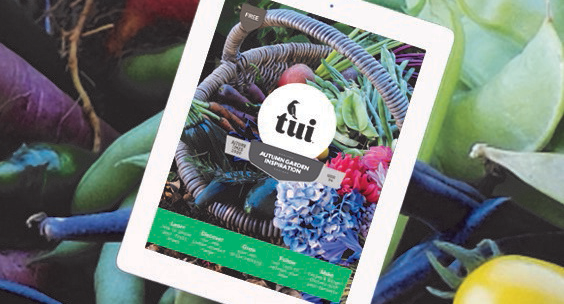 After the heat of summer, autumn is the time to replenish garden beds, sow seeds, and plant veges and herbs for a continuous supply. It's also a good time to carry out lawn care, and for indoor plant TLC before winter.
We love the feedback we get from you through our email newsletter and social media channels, so for this issue we were also keen to feature your gardens and tips to help inspire others.
This edition features:
Tui are proud to support the Garden to Table programme in schools and recently completed a staff
community day at Garden to Table's Pahoia School in the Bay of Plenty.
Pruning maintains the correct shape, tree health and a continuous fruiting cycle. Tui garden guru Lianne Wilson's shares her guide to pruning fruit trees.
As the hot weather eases, autumn is the ideal time for carrying out lawn care. Follow our three steps to lawn success. 
Create your own indoor plant oasis and follow our tips to add a touch of green to your living spaces.
Discover our autumn garden guide to plant vege crops best suited to the cooler temperatures.
Leah Evans (mrs.evans.garden) shares her productive and colourful Rotorua garden. 
If you're renting and the property doesn't have an established vege garden, there's plenty of ways to 'grow your own'. Follow our renters garden guide. 
Get your feijoa fix with our favourite feijoa relish recipe. 
Read the Tui autumn Times magazine: 
Download a PDF version here
Or look out for a copy in-store at Mitre 10 or your local garden centre.