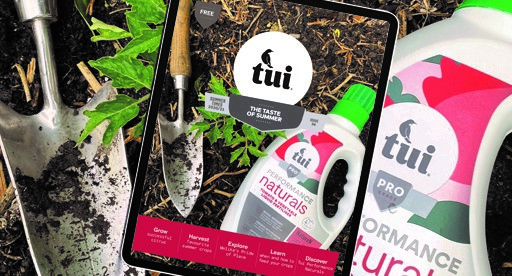 As we head into summer the rewards of your spring planting will be coming to life with an abundance of delicious vegetable and fruit harvests to enjoy with friends and family. There's still plenty to keep you busy too, whether it's feeding your crops, growing successful citrus or planting for continuous homegrown tomatoes.
THIS EDITION FEATURES:
Summer is a key harvest time in the garden, read our summer garden guide. 
Follow our Tui Grow Guide on how to grow successful citrus.
It's a great time of year to grow tomatoes for summer harvests.
Read our Tui Grow Guide on when and how to feed your plants. 
Discover our new range of 100% natural products that get great results. 
Explore Melika's pride of place on her home vineyard in Kerikeri.
Candy & Laura's top tips to growing strawberries and transplanting seedlings.
A few of our favourite #myprideofplace snaps shared over spring.
Exciting new products to keep your garden healthy and refreshed. 
READ THE TUI Summer TIMES MAGAZINE: 
Download a PDF version here
Or look out for a copy in-store at Mitre 10 or your local garden centre.