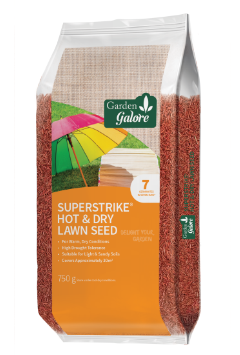 Garden Galore Hot & Dry Lawn Seed
Ensure your lawn survives the extreme heat with Garden Galore Superstrike Hot & Dry Lawn Seed. This quality blend of fescues, Kentucky bluegrass and fine turf rye is ideal for producing a deep-rooted lawn - suitable for sunny and coastal areas.
Garden Galore Superstrike Hot & Dry Lawn Seed is ideal for:
For Warm, Dry Conditions
High Drought Tolerance
Suitable for Light & Sandy Soils
Benefits
Garden Galore Superstrike Hot & Dry Lawn Seed has a revolutionary seed treatment which encourages fast germination of lawn seed (7 days in ideal growing conditions) . The unique treatment protects the seed from insects, fungal diseases and bird theft, for up to 6 weeks, without the need for a thick coating.
Directions for use
Lawns are best sown in early Spring and early Autumn.
Clear the area to be sown by spraying weeds and removing debris.
Then prepare a firm level bed by raking the soil and then lightly rolling to compact.
Sow seed evenly at a rate of 25g per m2. Sow first in a north-south direction and then again in an east-west direction to ensure complete, even coverage. Lightly rake to cover the seed.
Water gently and keep damp until germination is completed. Your lawn will benefit from regular watering particularly in the drier months of the year.
A new lawn will be ready to mow when it has reached a height of 5cm and the root system is established. Set the blades high and ensure they are sharp to protect the young seedlings. Subsequent mowing can be reduced in height to 2.5cm.
Garden Galore Hot & Dry Lawn Seed reviews
Be the first to write a review