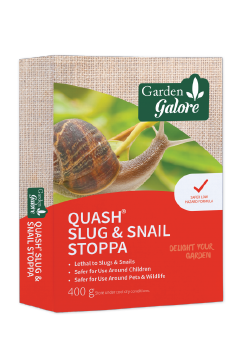 Garden Galore Quash Slug & Snail Stoppa
Ensure your seedlings and plants are protected from unwanted slugs and snails with Garden Galore Quash Slug & Snail Stoppa.
Garden Galore Quash is designed to last longer under damp conditions when slugs and snails are most active. When slugs and snails eat Garden Galore Quash they lose their appetite and crawl back to their shelter where they die, leaving no visible dead slugs or snails. Uneaten pellets eventually breakdown, plants can utilise this available iron chelate for healthy growth.
Garden Galore Quash is ideal for use on seedlings, potted plants, vegetables and perennials.
Active Ingredient: 52.3g/kg Iron EDTA Complex in the form of a pellet.
Benefits
Lethal to slugs & snails.
Safer for use around children.
Safer for use around pets & wildlife.
Directions for use
Sprinkle Garden Galore Quash around seedlings and plants. Use 50 pellets (approximately 1 teaspoons) per m2 of soil.
Apply after rain or watering.
Garden Galore Quash contains a taste deterrent to deter consumption by children and pets. The active ingredient in this product is Iron Chelate and does not contain metaldehyde or methiocarb.
Precautions:
Keep out of reach of children and animals.
Do not place pellets in heaps.
Do not apply to the foliage of edible plants or plants close to harvest.
Wash hands and exposed skin thoroughly after using.
Garden Galore Quash may be attractive to dogs, keep away from dogs. If consumed in large quantities it may be toxic. If an animal ingests Garden Galore Quash contact your veterinary surgeon.
Garden Galore Quash Slug & Snail Stoppa reviews
Be the first to write a review