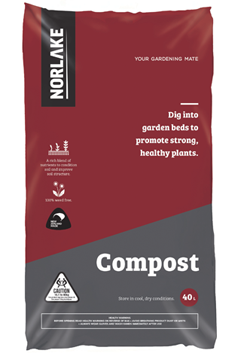 Norlake Compost
Dig into garden beds to promote strong, healthy plants.
Norlake Compost is a blend of organic matter, providing a rich source of nutrients for plants. Dig it into garden beds to improve soil structure, encourage earthworms and microbial activity for strong, healthy plants.
Benefits
A rich blend of nutrients to condition soil and improve soil structure for healthy plants.
100% weed free


Directions for use
Apply a 5cm layer to the soil surface.
Dig in to a depth of 15cm.
Avoid planting directly into Norlake Compost as this may burn plant roots.
Norlake Compost reviews
Be the first to write a review