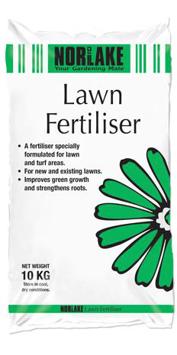 Norlake Lawn Fertiliser
Norlake Lawn Fertiliser is a special blend of nitrogen, phosphorus and potassium with iron, suitable for use on lawn or turf areas. This blend contains the essential ingredients to protect and encourage a rich green lawn.
Norlake Lawn Fertiliser is recommended to apply every six to eight weeks during the key growth periods of spring, summer and autumn.

N - P - K 8 - 3 - 3 + Iron
Benefits
A fertiliser specially formulated for lawn and turf areas.
For new and existing lawns.
Improves green growth and strengthens roots.
Directions for use
New lawns
Two weeks prior to sowing lawn seed, apply no more than 70 grams per square metre.
Rake gently then water thoroughly.
Established lawns
Apply 140 grams per square metre of lawn.
Water thoroughly.
Note: 1 cup is approximately 250-300g.
Norlake Lawn Fertiliser reviews
Be the first to write a review