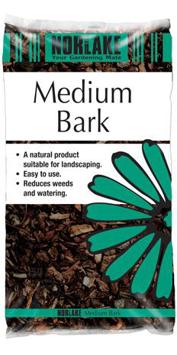 Norlake Medium Bark
Norlake Medium Bark is a natural resource suitable for decorative landscaping. It helps to suppress weed growth, protect plant roots from extremes in temperature, increase water holding capacity, and stimulate microbial and worm activity.
Benefits
A natural product suitable for landscaping.
Easy to use.
Reduces weeds and watering.
Directions for use
Prior to application, clear weeds, fertilise and water new and existing plants thoroughly and complete any garden edging.
Place a layer of weed control matting or wet sheets of newspaper on to the soil surface and around the plants right up to the garden edge.
Cover the area approximately 80mm deep with Norlake Medium Bark. Take care to avoid leaving the bark touching the trunk/stem of plants.
Norlake Medium Bark reviews
Be the first to write a review