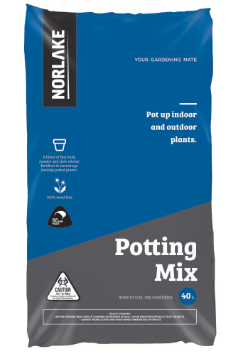 Norlake Potting Mix
Norlake Potting Mix is a blend of fine bark and pumice with a slow release fertiliser to create a free draining mix for strong plant establishment and growth.
Use for indoor and outdoor plants in pots, containers and hanging baskets for strong, healthy plant growth.
Benefits
A blend of fine bark, pumice and slow release fertiliser to encourage healthy potted plants.

100% weed free.
Directions for use
Water plants and allow to drain.

Partly fill container with mix.

Loosen the root ball of the plant.

Position the plant in the centre of the container and fill up to 2cm from the top.

Gently firm down. The soil should be at the same level on the plant as it was in the previous container.

Water well.
Apply a controlled release fertiliser every six months or as required to top up nutrients.
Norlake Potting Mix reviews
Be the first to write a review