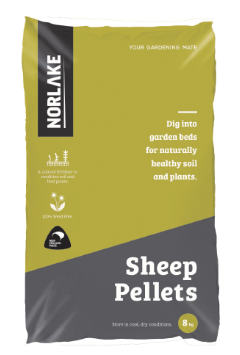 Norlake Sheep Pellets
Norlake Sheep Pellets are a natural fertiliser that provides plants with nutrients as they break down.
Dig into garden beds to improve soil structure, encourage earthworms and microbial activity for healthy plant growth.
N - P - K  3 - 2 - 4
Benefits
A natural fertiliser to condition soil and feed plants. 
Improves soil structure and increases earthworm activity.
100% weed free. 
Directions for use
At planting:
Apply 1kg per square metre of garden.
Mix into soil.
Water well.
Existing plants:
Apply 500g per square metre around plants. 
Mix into soil.
Water well. 
Norlake Sheep Pellets reviews
Excellent results with the Sheep Pellets, they certainly assist all plants and trees with their growth, health and fruit production. Highly recommended

Terry McMinn