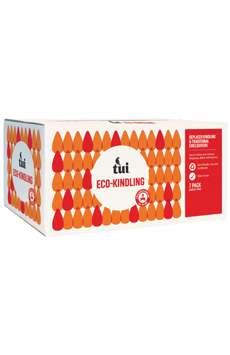 Tui Eco-Kindling
Tui Eco-Kindling 'all-in-one' replace the need for kindling and traditional firelighters by combining kindling and traditional firelighters into one product, made from recycled cardboard.
Simply light, add firewood and enjoy a cosy fire.
Suitable for use in indoor and outdoor fireplaces, BBQs and braziers.
Benefits
Replaces kindling and traditional firelighters.
Made from eco-friendly recycled cardboard.
Easy to use.
Fast, efficient ignition.
Directions for use
Remove one Tui Eco-Kindling from the pack and place flat in your appliance. To ensure adequate airflow the Tui Eco-Kindling must be clear of ash build up. Light the Tui Eco-Kindling underneath the lip (see illustration) - this may take up to ten seconds.
Allow the Tui Eco-Kindling to fully ignite using its unique draught technology - this may take up to five minutes.
Once the Tui Eco-Kindling is fully alight, place two pieces of firewood or Tui Briquettes in a tepee formation (see illustration) and leave to ignite and create a full fire.
Sit back and enjoy your fire.

Tui Eco-Kindling reviews
Be the first to write a review