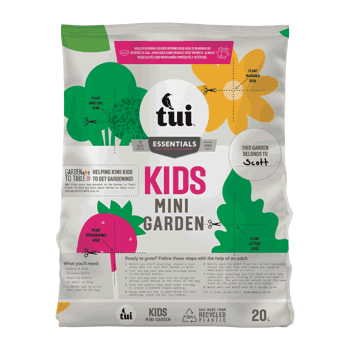 Tui Kids Mini Garden
Welcome to your first garden! Growing your own is an awesome skill you'll have for life, and we've created this super easy-to-use planter to get you started.
Follow the step-by-step instructions and you'll have your own patch bursting with colourful goodness in no time. There's no need for a pot or container, plant strawberries, broccoli, lettuce and marigolds straight into in the marked spots on the bag. 
We'd love to see how it goes – share your photos with #MyTuiMiniGarden on Facebook and Instagram. Happy Gardening!
This bag is recyclable through the soft plastics recycling scheme, it just needs to be clean and dry. Learn how to clean and dry your Tui growing media bags here.
Benefits
Easy-to-use - plant straight into the bag! 

Step-by-step planting instructions.

A six month controlled release fertiliser provides sustained feeding for optimum plant health.

SaturAid wetting agent to spread water evenly to the root zone and encourage rapid root development.

50 cents from each bag is donated to Garden to Table, helping Kiwi kids to grow.

Packaging made from 50% recycled plastic. 
Directions for use
What you'll need:
Gloves & mask
Scissors/knife
Seedling plants
An adult to help
A marker pen to write your name on the bag
Ready to grow? Follow these steps with the help of an adult.
Before you start planting, choose a nice, sunny spot for your Mini Garden to grow.
Turn the bag over and poke drainage holes in the marked places.
Turn the bag back over and cut along the dotted lines marked on the front of the bag.
Fold the plastic flaps back under the bag to create a diamond shaped opening.
Scoop some mix out to make holes for your seedlings (save the mix you remove).
Gently take the plant from the current container, loosen the root ball and remove any loose or dead plant material or roots.
Plant your seedlings and fill back in with your saved mix, gently firming it around the base of
the plant. The potting mix should be at the same level on the plant as it was previously.
Water well and watch your Mini Garden grow!
Tui Kids Mini Garden reviews
Be the first to write a review