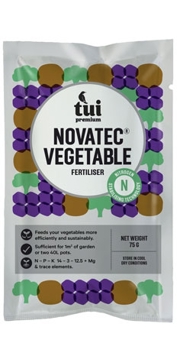 Tui Novatec Vegetable Fertiliser Mini
Tui NovaTec Vegetable fertiliser provides a sustained release of nutrients for up to four months, encouraging strong vegetable growth for bountiful harvests.
As a compound fertiliser each granule contains the same available nutrients - so your plants receive a balanced and even spread of all essential nutrients. This combination results in stronger, healthier plants and higher yields from your garden. Nitrogen stabilising technology benefits our environment too - less nitrogen leaches into our waterways.
Sufficient for 1m² of garden or two 40L pots.
N-P-K 14-3-12.5 + Mg & trace elements.
Benefits
Feeds your vegetables more efficiently and sustainably.
Suitable for use in pots and containers.
Safer for the environment.
Directions for use
Planting in garden beds:
Apply 75g (approx. 4 tablespoons) per square metre around the plant's dripline (the dripline is where the plant's foliage extends to).
Mix thoroughly into the soil.
Water in well after application.
Planting in pots and containers:
Apply 10g (approx. 1/2 tablespoon) per 10L.
Spread over the soil avoiding the plant stem.
Water in well after application.

Tui Tip:
Apply during key growth periods of spring and summer.


Tui Novatec Vegetable Fertiliser Mini reviews
Loved this! Always use this for my veggie plants. Got lots of veggies most of the time. Very recommended!

Evi