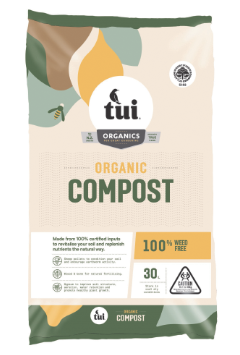 Tui Organic Compost - BioGro Certified
Healthy soil is an essential ingredient to create thriving, healthy plant growth. Using Tui Organic Compost to replenish nutrients in your garden means you can rest assured you have maximised the natural goodness in the plants you have carefully tended.
Tui Organic Compost is BioGro certified and revitalises your soil with organic matter and nutrients. Crafted from natural resources including bark fines, sheep pellets, blood & bone, and gypsum, Tui Organic Compost is designed to help your garden flourish. The addition of Tui Organic Compost to gardens will increase water holding capacity in light soils, improve drainage in heavy soils and encourage earthworm and microbial activity.
Use in new and existing garden beds and enjoy the unparalleled satisfaction that comes from growing your own, naturally.
This bag is recyclable through the soft plastics recycling scheme, it just needs to be clean and dry. Learn how to clean and dry your Tui growing media bags here.
Benefits
Sheep pellets to condition your soil and encourage earthworm activity.

Blood & bone for natural fertilising.

Gypsum to improve soil structure, aeration, water retention and promote healthy plant growth.

Made from 100% certified inputs.

100% weed free.
Directions for use
Directions for use while planting:
Apply approximately one bag of Tui Organic Compost per square metre of garden.

Dig to a depth of approximately 20cm.

Follow individual planting instructions.

Water well after planting and continue to water regularly.
Avoid planting directly into Tui Organic Compost. Dig into existing soil.
Tui Organic Compost - BioGro Certified reviews
Be the first to write a review