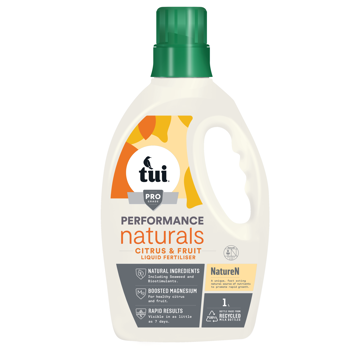 Tui Performance Naturals Citrus & Fruit Liquid Fertiliser
Performance Naturals give you the power of synthetics with a performance that's all natural, just like the garden you're keeping - good stuff!
Our Citrus & Fruit Fertiliser delivers fantastic results, formulated using NatureN, a fast acting natural ingredient that's super rich in nutrients. Use throughout your garden, and in pots and containers, to get your citrus and fruit growing happy and healthy.
Our natural ingredients get great results and that's got to be good! Performance Naturals.
N-P-K 3.9-0-2.4 + S + Mg
Benefits
NatureN - A unique, fast acting natural source of nutrients to promote rapid growth.
Natural ingredients including Seaweed and Biostimulants to improve overall plant health.
Enhanced with magnesium for healthy citrus and fruit.
Visible in as little as 7 days.
Bottle made from 100% recycled plastic.
Directions for use
Shake well before use.
Add 3 caps (or 2 for seedlings) into a 9L watering can and fill with water.
Apply to soil around plants.
Apply every two weeks during the key growth periods of spring, summer and autumn. 
Do not use if temperatures are expected to exceed 30 degrees Celsius. May contain minor non-natural impurities due to manufacturing process.
Tui Performance Naturals Citrus & Fruit Fertiliser packaging is recyclable through regular curbside recycling.
Tui Performance Naturals Citrus & Fruit Liquid Fertiliser reviews
My lemon tree is growing much healthier after using this fertiliser

Grant Chin

I used the Tui Fruit & Citrus Liquid Fertiliser Performance Natural and I have so many Mandarins on my tree that we have had to tie up the branches. This fertiliser is amazing and the best I have ever used. A+

Trish Vickers
Show more