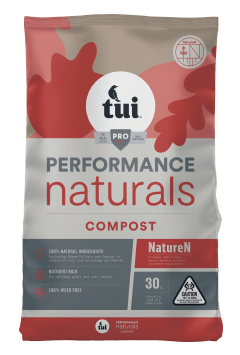 Tui Performance Naturals Compost
Performance Naturals give you all the power of synthetics with a performance that's 100% natural, just like the garden you're keeping. So you get outstanding results without adding anything un-natural to your own environment. Good stuff!
Our Compost is formulated using NatureN, a fast acting natural ingredient that is super rich in nutrients. Sheep pellets add organic matter to improve soil structure, encourage earthworms, and nourish your plants. Dig into garden beds to grow healthier plants.
Natural ingredients get great results and that's got to be good! Performance Naturals.
This bag is recyclable through the soft plastics recycling scheme, it just needs to be clean and dry. Learn how to clean and dry your Tui growing media bags here.
Benefits
NatureN - A unique, fast acting natural source of nutrients to promote rapid growth.
100% natural ingredients including sheep pellets and gypsum to condition soil and encourage earthworms.
Nutrient rich for optimum plant and soil health.
Packaging made from 50% recycled plastic. 
100% weed free. 
Directions for use
Apply approximately 20L of Tui Performance Naturals Compost per square metre of garden.
Dig to a depth of approximately 20cm.
Follow individual planting instructions.
Water well after planting
Avoid planting directly into Tui Performance Naturals Compost as this may burn plant roots.
Tui Performance Naturals Compost packaging (clean and dry) is recyclable through the soft plastics recycling scheme. Find out more here.
Tui Performance Naturals Compost reviews
Be the first to write a review