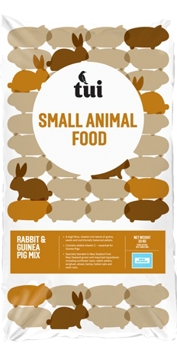 Tui Rabbit & Guinea Pig Mix
Your treasured pets deserve the best. The Tui Small Animal Food range contains quality ingredients to provide your pets a nutritionally balanced diet.
Rabbit and guinea pigs are easy to care for together because they have similar housing, dietary and health needs. A combination of Tui Rabbit & Guinea Pig Mix, hay, fresh vegetables and fruit works for both animals.
Contains a high quality blend of: Sunflower seed, Rabbit Pellets, Kibbled Corn, Whole Corn, Sorghum, Wheat, Barley, Hulled Oats, Fodder Radish and Multi Nuts.
Tui Rabbit & Guinea Pig Mix reviews
Be the first to write a review